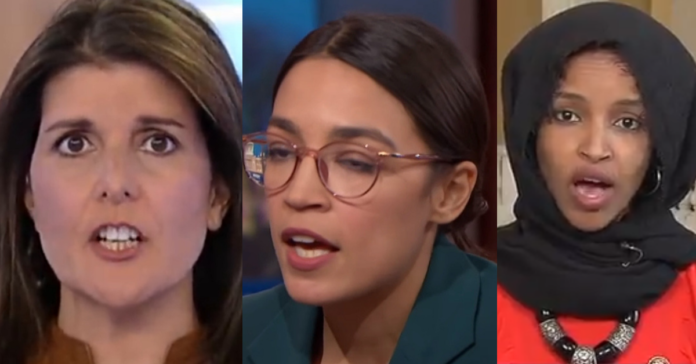 Nikki Haley just dropped the hammer on AOC and Ilhan Omar and took a few shots at crazy Bernie Sanders.
Democracy and capitalism are not perfect but are far better than any other option we have out there.
Yet, the left seems to prefer embracing the failed policies of the past rather than work to make the policies of the present better, and that is why they keep losing elections.
From The Daily Caller: Former Ambassador to the United Nations Nikki Haley sharply criticized three prominent Democrats — Reps. Alexandria Ocasio-Cortez of New York and Ilhan Omar of Minnesota and Vermont Sen. Bernie Sanders — for going soft on Venezuela's socialist dictatorship.
"On the fringes of the left, celebrity politicians refuse to condemn [Venezuelan dictator Nicolas] Maduro. Worse, some have actually embraced him," Haley wrote in a Monday post for Stand For America, her new political organization.
Haley ticked through the responses from Ocasio-Cortez, Omar and Sanders, taking shots at each one.
Ocasio-Cortez dodged when asked if Maduro was a legitimate ruler. "A simple 'no' would have sufficed," commented Haley.
Omar blamed "a lot of the policies that we have put in place has kind of helped lead the devastation in Venezuela" in an April interview.
"When I saw this, I couldn't stay silent," Haley wrote, explaining why she slammed Omar's response in a viral tweet on May 1.
"Rep. Omar needed to be educated; she needed to see what I have seen on that Colombian bridge," Haley wrote, citing a trip she took to Columbia's border with Venezuela.
Haley also took a shot at Sanders, whose presidential campaign has consistently trailed former Vice President Joe Biden in national polls.
"While Bernie Sanders has conceded that there are terrible things happening in Venezuela, he has repeatedly refused to label Maduro a dictator," Haley wrote.
"History has shown that communism and socialism do not work. In their extreme – in places like Venezuela, Cuba and Nicaragua – these dangerous ideologies result in murder, starvation and despair," she added.