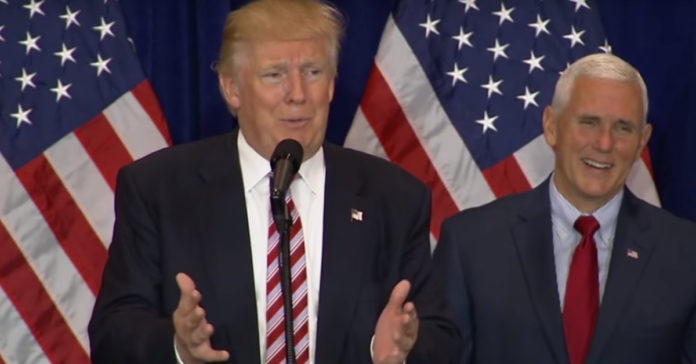 Wisconsin held a critical special election last night and all eyes were on the GOP's performance.
The GOP lost big in Wisconsin in the 2018 midterms, and Scott Walker lost a close race for governor.
Losing that seat, unless the Supreme Court steps in on the current gerrymandering cases before it, will allow the Democrats to have too much input in the all-important redistricting after the 2020 census.
The left pointed at Wisconsin believing Trump was finished and that they would sweep the rust belt going forward.
But that was just another liberal fantasy - the 2018 elections, especially in Wisconsin, were very close and pointed to no bigger trend in American politics.
And now we have the proof - a hugely important seat on the Wisconsin state supreme court was up for grabs last night and the GOP won it.
The Democrats wanted it badly as they are a minority on the court, and believing Trump a pariah thought they had it. Now, the race may go to a runoff but all things considered, this is a huge win for the GOP and a backbreaking defeat for the Dems.
From NBC:
Last April, Wisconsin Democrats trounced Republicans in a statewide race for state Supreme Court, foreshadowing Dem wins seven months later in the Badger State (for governor and Senate).
After last night, almost exactly a year later in another Wisconsin state Supreme Court race, Dem-backed Lisa Neubauer trails GOP-backed Brian Hagedorn by more than 5,000 votes, 601,007 to 595,206 – with the contest likely headed to a runoff.
"Liberals had hoped to have Neubauer win this year so they could be on a path to taking control of the court next year, when conservative Justice Daniel Kelly's term is up," the Milwaukee Journal-Sentinel writes.
Last night's results hammer home two points:
Wisconsin, which could be the state that ultimately decides the 2020 election, remains closely divided. (Even in last year's favorable midterm environment for Democrats, Tony Evers beat Scott Walker by just 1 point in the race for governor.)
The energy from the Democratic resistance of 2017-2018 seems to have petered out so far in 2019. (Dem performance in Milwaukee County was down from a year ago.)
Sure, Democrats last night flipped a state Senate seat in Pennsylvania that President Trump carried by 6 points in 2016, per NBC's Josh Lederman.
But that kind of performance for Dems has been more the exception rather than the rule so far in 2019.
And it raises the question: With Democratic operatives and presidential candidates talking about reforming the Electoral College and complaining about gerrymandering, how about winning these kinds of races first?