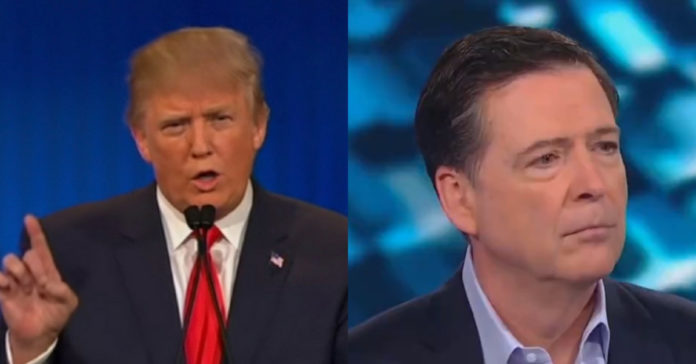 President Trump dropped the hammer today and removed all doubt as to what his next action against the deep state will be.
"People did things that were very, very bad for our country and very, very illegal. And you can even say treasonous," Trump said.
Earlier Trump said: 'Everybody is asking how the phony and fraudulent investigation of the No Collusion, No Obstruction Trump Campaign began. We need to know for future generations to understand. This Hoax should never be allowed to happen to another President or Administration again!"
"This was a hoax. This was a witch hunt. I have absolutely nothing to hide. And I think a lot of things are coming out with respect to the other side."
"But what hasn't been a waste of time is, some very bad people started something that should have never been started," Trump added.
Lindsey Graham also echoed Trump calls for a new investigation into James Comey and Hillary and the rest.
In other words, Comey is in trouble. From The Federalist Papers:
In an interview with CNN Comey was asked if he was afraid of what the president said and a similar call for investigation by Sen. Lindsey Graham.
"'I don't fear it personally. I fear it as a citizen, right? Investigate what? Investigate that investigations were conducted? What would be the crime you'd be investigating?" he said.
Investigate what? How about how the FBI and the Department of Justice was weaponized against a presidential candidate and his campaign?
"So it's a terrible cycle to start. He's already started it with calling for the locking up of his political opponents, including people like me and so it would just be more of that dangerous step and would I hope, though they'll continue to disappoint me, the Republicans would finally stand up and say we don't that kind of thing," he said.
"That's not a role for government to play," he said in response to the interviewer asking him if the FBI should have censored the "lock her up" chants directed at Hillary Clinton.
"The beauty of this country is people can say what they want even if it's misleading and it's demagoguery," he said.
CNN's @camanpour asks @Comey if he should've used the FBI to censor "lock her up" chants because they amount to "hate speech." She also says the chants could be "dangerous."

Comey reminds her that's not how we do things in the United States. https://t.co/5yvezKgGuT pic.twitter.com/02P5zdP0iZ

— Amber Athey (@amber_athey) April 2, 2019