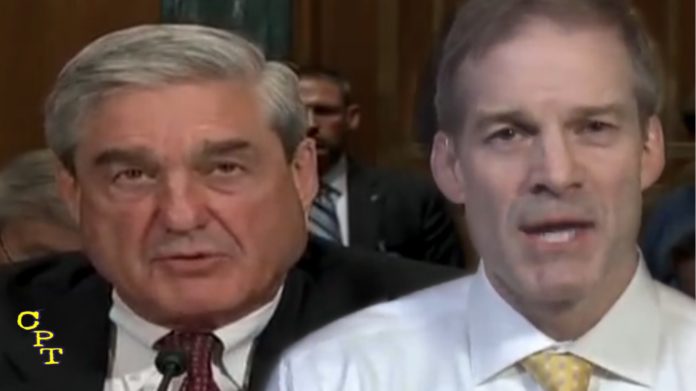 Jim Jordan has been one of the strongest allies Trump has in Congress and POTUS should thank him for his service.
Jordan is never afraid to take the heat from the Democrats to stick up for Trump with sometimes amazing results.
For proof look no further than how Jordan kept the pressure on Mueller to clean his house from any anti-Trump bias. Believe me, if Jordan wasn't doing this it would not be getting done.
From The Washington Examiner: Rep. Jim Jordan speculated Tuesday a letter he sent to Attorney General William Barr may have prompted the two of special counsel Robert Mueller's to begin departing from his team.
During an interview on Fox News, host Harris Faulkner asked if the Ohio Republican believed the Russia investigation was wrapping up, pointing to news in the past week that Andrew Weissmann and Zainab Ahmad were parting ways with Mueller.
Jordan pointed to a letter he and Rep. Mark Meadows, R-N.C., sent to Barr earlier this month.
"The reason Ms. Ahmad might have left is the fact that the report is coming soon. We all kind of suspect that it is," Jordan said. "It also might be a letter that Mr. Meadows and I sent to Attorney General Barr just 19 days ago, on March 1."
He then explained the contents of the letter, which noted DOJ official Bruce Ohr, who acted as an unofficial backchannel between the FBI and the author of the so-called Trump dossier, and his communications with the pair.
"We sent a letter pointing out that Andrew Weissmann, who is also leaving the special counsel, and Ms. Ahmad met with Bruce Ohr prior to the 2016 election," Jordan said. "And Mr. Ohr conveyed to them that Christopher Steele, the author of the dossier, had talked to him and he was conveying that information to both of these individuals who went on Bob Mueller's team that Mr. Steele was desperate to stop Trump. We pointed it out to Mr. Barr. Maybe that had to do with them leaving as well. I don't know."
The dossier, Jordan noted, was used in the Foreign Intelligence Surveillance Act warrant application process that led to the wiretapping of onetime Trump campaign aide Carter Page. GOP congressional investigators have determined that Steele's bias against President Trump and his research's Democratic benefactors were not conveyed to the FISA court.
From The Gateway Pundit:
Another top prosecutor left Mueller's team this week, making this the second high-profile departure from the Russia witch hunt this month.
Zainab Ahmad, a US Attorney in the Eastern District of New York and Andrew Weissmann's partner-in-crime was one of the prosecutors on Mueller's team who signed General Mike Flynn's guilty plea.
Mueller's "pit bull" Andrew Weissmann stepped down from the special counsel's team last week.
Peter Carr, the spokesman for the special counsel said this week that Zainab Ahmad has concluded her work with Mueller.
"Zainab Ahmad has concluded her detail with the Special Counsel's Office but will continue to represent the office on specific pending matters that were assigned to her during her detail," Peter Carr said in a statement, reported Yahoo.
Reps. Meadows and Jordan sent a letter to Attorney General Bill Barr on March 1st outlining that Bruce Ohr, according to his testimony to the House Oversight and Judiciary Committee, admitted to telling both Andrew Weissmann and Zainab Ahmad in August of 2016 that dossier author Christopher Steel was "desperate to stop Trump."
Rep. @Jim_Jordan speculates that a top lawyer on Mueller's team left today because the investigation could soon end.

"It also might be a letter Mr. Meadows and I sent to AG Bill Barr just 19 days ago."

The letter, he explained, points out a bias against Trump at the DOJ. pic.twitter.com/BximWrpZ3l

— Washington Examiner (@dcexaminer) March 19, 2019