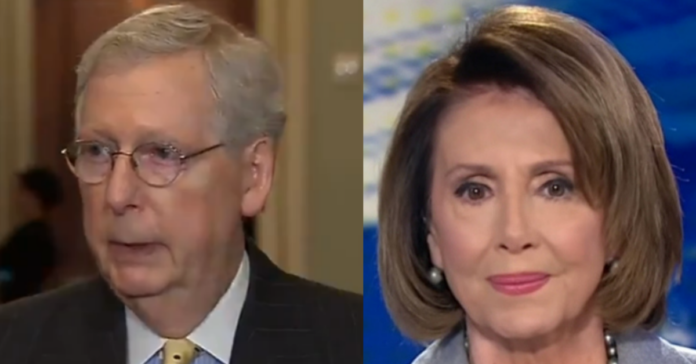 Nancy Pelosi is overrated. Believe me, she does not have a grand plan for Trump's impeachment or even to help defeat him in 2020.
She is winging it, clinging to polls and other outdated methodologies. Trump is spending massively on social media to hone his message while the Democrats can't even decide whether to impeach, let alone a platform.
They are splintered so Pelosi tried a weak public relations ploy to paint the GOP as obstructionists. It didn't work.
Number one, who cares, number two - Mitch hit her back so hard he wiped the smirk right off her face. From The Washington Examiner:
Senate Majority Leader Mitch McConnell referred to himself as the "grim reaper" of the Democratic socialist agenda in response to an attack by House Speaker Nancy Pelosi.
The Republican senator from Kentucky said he agreed with Pelosi for perhaps the first time ever in an interview with Fox News host Laura Ingraham on Thursday night. At a press conference Thursday, Pelosi referred to McConnell as the "grim reaper" and showed off a poster of "McConnell's graveyard" of Democrat bills that the Senate majority leader has refused to vote on.
"She's got it right. For the first time in my memory, I agree with Nancy Pelosi," McConnell said of the California Democrat.
"I am indeed the grim reaper when it comes to the socialist agenda that they have been ginning up over in the House with overwhelming Democratic support and sending it over to America, things that would turn us into a country we've never been."
The Democrat priorities in the House include the Green New Deal, "Medicare for all," adopting Washington, D.C., and Puerto Rico as U.S. states, and expanding the Supreme Court, McConnell said.
"This is full-bore socialism on the march in the House, and, yeah, as long as I am the majority leader of the Senate, none of that stuff is going anywhere," McConnell said.
McConnell did bring up the Green New Deal, a resolution pushed by freshman Rep. Alexandria Ocasio-Cortez, D-N.Y., for a vote in March.
The resolution overwhelmingly failed with 0 votes in favor of it. Every Republican and several Democrats tallied 57 votes against the measure, while 43 Democrats voted "present" in protest over what they said was a political stunt.