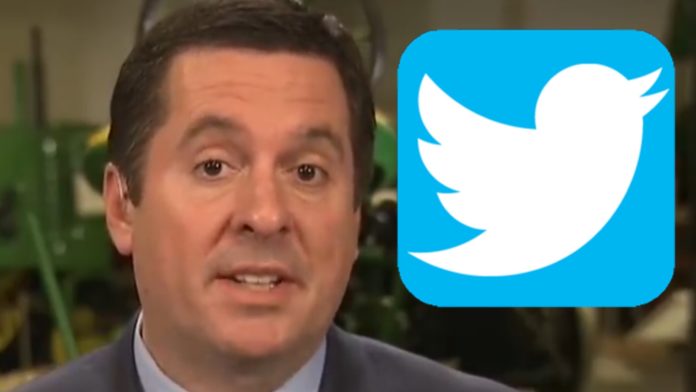 Devin Nunes has had enough of the oftentimes lousy treatment of conservatives by Twitter. Conservatives have long complained that Twitter was shadow banning them, a charge the social media company denies.
He also hit out a few bad actors on the platform who spread scandalous rumors about him. Wow, this is a big move.
From Fox News: California GOP Rep. Devin Nunes filed a major lawsuit seeking $250 million in compensatory damages and $350,000 in punitive damages against Twitter and a handful of its users on Monday, accusing the social media site of "shadow-banning conservatives" including himself to influence the 2018 elections, systematically censoring opposing viewpoints and totally "ignoring" lawful complaints of repeated abusive behavior.
In a complaint filed in Virginia state court on Monday, obtained by Fox News, Nunes said Twitter was guilty of "knowingly hosting and monetizing content that is clearly abusive, hateful and defamatory – providing both a voice and financial incentive to the defamers – thereby facilitating defamation on its platform."
Although federal law ordinarily exempts services like Twitter from defamation liability, Nunes' suit said the platform has taken such an active role in curating and banning content that it should face liability like any other organization that defames.
"Twitter created and developed the content at issue in this case by transforming false accusations of criminal conduct, imputed wrongdoing, dishonesty and lack of integrity into a publicly available commodity used by unscrupulous political operatives and their donor/clients as a weapon," Nunes' legal team wrote.
"Twitter is 'responsible' for the development of offensive content on its platform because it in some way specifically encourages development of what is offensive about the content."
In large part because of Twitter's actions, Nunes "endured an orchestrated defamation campaign of stunning breadth and scope, one that no human being should ever have to bear and suffer in their whole life" in the past year, according to the complaint.
The complaint also named specific Twitter accounts that spread allegedly defamatory material about Nunes. One defendant, identified as "Liz" Mair, purportedly published tweets that "implied that Nunes colluded with prostitutes and cocaine addicts, that Nunes does cocaine, and that Nunes was involved in a 'Russian money laundering front,'" according to Nunes' lawyers.
The complaint also names "Devin Nunes' Mom," "a person who, with Twitter's consent, hijacked Nunes' name, falsely impersonated Nunes' mother, and created and maintained an account on Twitter (@DevinNunesMom) for the sole purpose of attacking, defaming, disparaging and demeaning Nunes," according to the complaint.
 "In her endless barrage of tweets, Devin Nunes' Mom maliciously attacked every aspect of Nunes' character, honesty, integrity, ethics and fitness to perform his duties as a United States Congressman," Nunes' lawyers wrote.
 As of Monday afternoon, the DevinNunesMom account was suspended by Twitter when Fox News tried to access it. The complaint stated that "Twitter only suspended the account in 2019 after Nunes' real mother, Toni Dian Nunes, complained. … Twitter permitted @DevinNunesMom, for instance, to tweet and retweet with impunity throughout 2018."