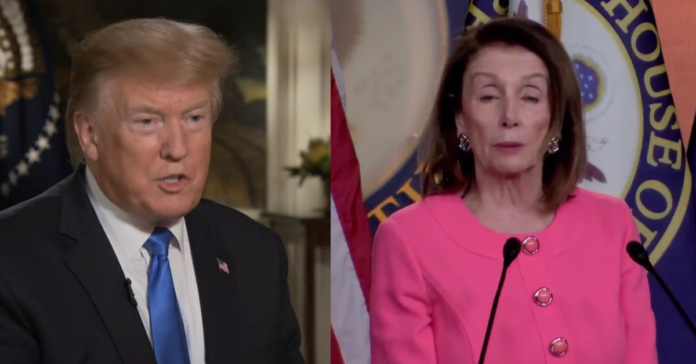 America is by far the most generous nation in history. We won wars and rather than dominate and rule, we left and helped rebuild.
We lifted billions of people out of poverty with charity and capitalism. We sometimes went too far (when we gave China too much and they took advantage)…
But on the whole, America's record for doing good is unmatched. But we have our limits - look we have laws that have mile-wide loopholes.
To protect our sovereignty they need to be closed, at least until we get a handle on the humanitarian crisis going on at the southern border.
Which is why Trump just overruled Pelosi and the rest of the Dems and closed an enforcement loophole that should help mitigate the crisis.
From The Washington Examiner: The Department of Homeland Security is racing to implement a plan that would give federal law enforcement on the border the authority to conduct interviews with asylum seekers who fear returning to their home countries, according to two sources with firsthand knowledge of the plan.
Under the pending procedural change, U.S. Citizenship and Immigration Services officers would train Border Patrol agents on the southern border how to conduct "credible fear interviews," which immigrants must pass to go on to claim asylum. Agents would conduct the interviews shortly after apprehending people who have illegally crossed from Mexico to the U.S.
The Trump administration is pushing to start agent training "ASAP," according to one official.
The proposal has some downsides. For instance, there likely would be fewer Border Patrol agents performing law enforcement duties while undergoing training. But that would be offset by an overall decline of undocumented immigrants seeking refuge in the U.S.
"If that gets rolled out and we actually start deporting people within a timely manner, you're going to see the numbers drop exponentially," the official said.
Homeland Security, under acting Secretary Kevin McAleenan, would essentially deputize law enforcement to carry out citizenship officers' jobs in order to initially reduce the number of people who have passed that stage and are waiting on asylum decisions. Those calls usually take two to five years due to the current 900,000 cases waiting to be decided by fewer than 500 immigration judges nationwide.
DHS is not planning to get congressional approval before implementing the change.