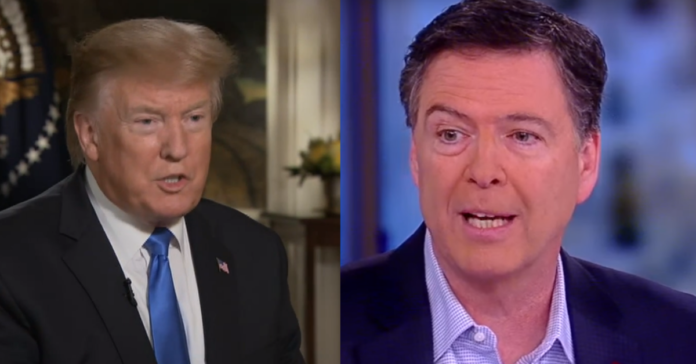 James Comey is in big trouble. Look, the left will never save James Comey on account of his last-minute surprise reopening of the Clinton email investigation.
They believe that cost her the election, so unless they were in on it, they will let him twist in the wind.
Sadly for Comey, if they were in on it they are now out of power and have no way to protect him. Comey is alone and Trump and Barr are coming for him.
If Comey didn't make recordings of any conversations that could clear him, he is doomed and so are the deep state actors who went after Trump.
Because Trump is going to declassify the whole thing - he will air the deep state's dirty laundry and let the chips fall where they may.
Trump for his part believes Comey was dirty and will face the consequences. From The Daily Mail:
President Donald Trump claimed on Thursday that it's likely former FBI Director James Comey led an effort to spy on his campaign in 2016.
And he told a Fox News Channel interviewer that he intends to declassify documents related to controversial surveillance warrants 'pretty soon.'
White House officials have vented both publicly and privately for more than a year about warrants the Obama Justice Department obtained from a Foreign Intelligence Surveillance Act court to monitor Carter Page, then a Trump campaign foreign policy adviser.
The president signaled Friday morning that a reckoning was near.
'Finally, Mainstream Media is getting involved - too "hot" to avoid,' he tweeted, citing a front-page New York Times story about 'effort to spy on Trump Campaign.'
'Pulitzer Prize anyone? … This is bigger than WATERGATE, but the reverse!' the president wrote.
He didn't set a firm timetable on Fox News for declassifying the materials related to the FISA warrants, saying he would do it 'soon, I mean whenever they need it.'
'I will be declassifying, yes.' he said. 'Everything.'
Trump made a point of blasting Comey, who called him 'amoral' in a New York Times op-ed this week.
'Comey leaked and he lied. He lied in front to Congress,' he said, renewing themes that are now nearly as old as his presidency.
And the FBI director who he fired two years ago likely was in charge of scooping up intelligence aimed at preventing his victory, he claimed.
'I would say he probably led some kind of an effort,' Trump said of Comey. 'The word 'spying' has been used. He probably was one of the people leading the effort on spying.'
'It could very well be true. We are going to find out pretty soon,' he said.
Attorney General William Barr told Congress in April that 'spying on a political campaign is a big deal,' and added: 'I think spying did occur.'