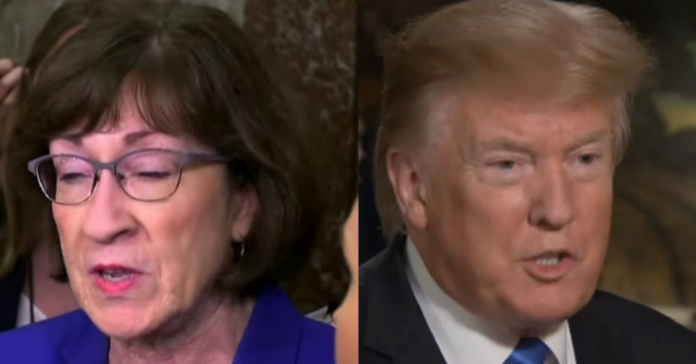 Susan Collins is up for reelection in 2020 and she is making the classic weak Washington blunder.
Strength wins elections and Trump is strong - you do not want to run away from him this election, you want to run right alongside him.
To do otherwise is to invite certain defeat. And Collins is falling in the liberal trap - the left wants her out for Brett Kavanaugh and rather than embrace her decision she seems intent on hedging it in a doomed effort to appeal to some Dem voters. Won't work - rally round your base Susan or you will go down.
From The Hill: GOP Sen. Susan Collins (Maine) on Wednesday voted against a district judge nominee of President Trump's who was considered controversial because of her views on abortion.
Republicans were able to break the filibuster on Wendy Vitter's nomination to be a judge in the Eastern District of Louisiana in a 51-45 vote, all but guaranteeing she will be confirmed on Thursday. But Collins, who is up for reelection in 2020, was the only GOP senator to oppose advancing Trump's pick.
A spokeswoman for Collins confirmed that her vote against advancing Vitter Wednesday meant that she would also oppose her confirmation on Thursday.
Vitter is the wife of former Sen. David Vitter (R-La.), whose time in the Senate overlapped with Collins. Vitter has come under intense scrutiny for her views on abortion, including appearing at a rally opposing the construction of a Planned Parenthood clinic, where Vitter accused the group of "killing over 150,000 females a year."
At a 2013 conference Vitter appeared to back a brochure that linked abortions to breast cancer and taking birth control to an increased likelihood of violent relationships.
"Go to Dr. Angela's website, Breast Cancer Prevention Institute, download it, and at your next physical, you walk into your pro-life doctor and say, 'Have you thought about putting these facts or this brochure in your waiting room?' Each one of you can be the pro-life advocate to take that next step. That's what you do with it," she said at the conference, according to NPR.
Collins is one of a dwindling number of moderate, pro-choice Republicans in the Senate, and has broken with the administration on other nominations including Chad Readler's Sixth Circuit nomination in March.
Collins, at the time, linked her opposition to Readler to his role in a case involving pre-existing conditions.
Outside groups had targeted Collins ahead of the vote on Vitter's nomination.
Senate votes to break Dem filibuster of Wendy Vitter to sit on a district court, 51-45. Susan Collins voted against advancing the nomination of her former colleague's wife

— Manu Raju (@mkraju) May 15, 2019