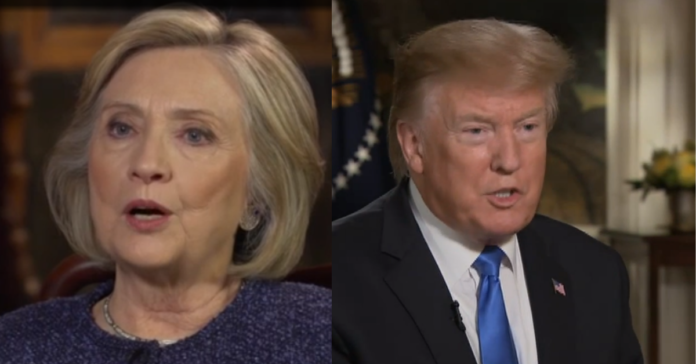 Hillary Clinton was desperate to beat Trump and full of arrogance. That explains all the diabolical ways she tried to use the DNC to subvert democracy.
She had her people in place and she rigged the primary against Bernie using a cynical and undemocratic super-delegate strategy.
She was the wrong candidate, even Obama called her soulless, and deserved to lose. And she knew it, which is why she went to such desperate efforts to beat Trump.
Now, politics is a dirty business to be sure, and while it seems Clinton's actions may have been legal, they can still be a betrayal of America and our ideals.
She tried to use the Russian hoax to get Trump kicked off the ballot, and had she succeeded with help from the deep state, Democracy would have been forever damaged.
From The Hill: The boomerang from the Democratic Party's failed attempt to connect Donald Trump to Russia's 2016 election meddling is picking up speed, and its flight path crosses right through Moscow's pesky neighbor, Ukraine. That is where there is growing evidence a foreign power was asked, and in some cases tried, to help Hillary Clinton.
In its most detailed account yet, the Ukrainian Embassy in Washington says a Democratic National Committee (DNC) insider during the 2016 election solicited dirt on Donald Trump's campaign chairman and even tried to enlist the country's president to help.
In written answers to questions, Ambassador Valeriy Chaly's office says DNC contractor Alexandra Chalupa sought information from the Ukrainian government on Paul Manafort's dealings inside the country, in hopes of forcing the issue before Congress.
Chalupa later tried to arrange for Ukrainian President Petro Poroshenko to comment on Manafort's Russian ties on a U.S. visit during the 2016 campaign, the ambassador said.
Chaly says that, at the time of the contacts in 2016, the embassy knew Chalupa primarily as a Ukrainian-American activist and learned only later of her ties to the DNC. He says the embassy considered her requests an inappropriate solicitation of interference in the U.S. election.
"The Embassy got to know Ms. Chalupa because of her engagement with Ukrainian and other diasporas in Washington D.C., and not in her DNC capacity. We've learned about her DNC involvement later," Chaly said in a statement issued by his embassy. "We were surprised to see Alexandra's interest in Mr. Paul Manafort's case. It was her own cause. The Embassy representatives unambiguously refused to get involved in any way, as we were convinced that this is a strictly U.S. domestic matter.
"All ideas floated by Alexandra were related to approaching a Member of Congress with a purpose to initiate hearings on Paul Manafort or letting an investigative journalist ask President Poroshenko a question about Mr. Manafort during his public talk in Washington, D.C.," the ambassador explained.
Chaly's written answers mark the most direct acknowledgement by Ukraine's government that an American tied to the Democratic Party sought the country's help in the 2016 election, and they confirm the main points of a January 2017 story by Politico on Chalupa's efforts.
But Andrii Telizhenko, a former political officer who worked under Chaly from December 2015 through June 2016, told me he was instructed by the ambassador and his top deputy to meet with Chalupa in March 2016 and to gather whatever dirt Ukraine had in its government files about Trump and Manafort.
Telizhenko said that, when he was told by the embassy to arrange the meeting, both Chaly and the ambassador's top deputy identified Chalupa "as someone working for the DNC and trying to get Clinton elected."
Over lunch at a Washington restaurant, Chalupa told Telizhenko in stark terms what she hoped the Ukrainians could provide the DNC and the Clinton campaign, according to his account.
"She said the DNC wanted to collect evidence that Trump, his organization and Manafort were Russian assets, working to hurt the U.S. and working with Putin against the U.S. interests. She indicated if we could find the evidence they would introduce it in Congress in September and try to build a case that Trump should be removed from the ballot, from the election," he recalled.
After the meeting, Telizhenko said he became concerned about the legality of using his country's assets to help an American political party win an U.S. election. But he proceeded with his assignment.
Telizhenko said that, as he began his research, he discovered that Fusion GPS was nosing around Ukraine, seeking similar information, and he believed they, too, worked for the Democrats.
"A lot more coming down the pipe," Chalupa wrote a top DNC official on May 3, 2016, recounting her effort to educate Ukrainian journalists and Isikoff about Manafort.
Then she added: "More offline tomorrow since there is a big Trump component you and Lauren need to be aware of that will hit in next few weeks and something I'm working on you should be aware of."
Less than a month later, the "black ledger" identifying payments to Manafort was announced in Ukraine, forcing Manafort to resign as Trump's campaign chairman and eventually to face criminal prosecution for improper foreign lobbying.