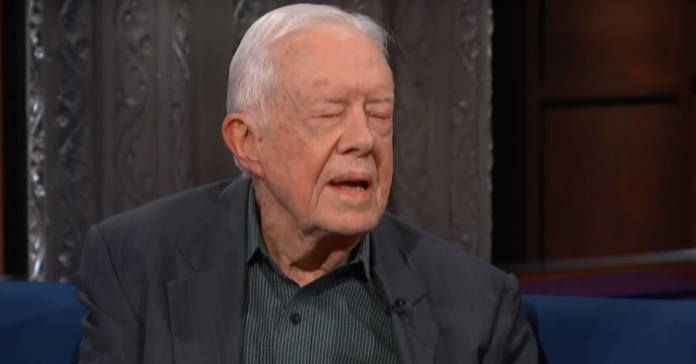 Jimmy Carter was rushed to the hospital after he fell preparing to go Turkey hunting. He had surgery and expected to fully recover.
Carter is an avid hunter and showed his good humor when he cracked a joke at his misfortune releasing a statement saying that he has not reached his limit this year and wants the state of Georgia to let him roll over to next year the unused limit.
From Reuters:  Former U.S. President Jimmy Carter fell and broke his hip on Monday as he was preparing to leave his home in Georgia for a turkey-hunting trip, and has undergone surgery to repair the injury, a representative said.
Carter, 94, a Democrat who was elected president in 1976, was accompanied by his wife, Rosaylnn, 91, while recovering from the operation, which doctors said was successful, according to a statement from his nonprofit organization, the Carter Center.
The surgery was performed at a medical center in Americus, Georgia, about 10 miles (16 km) east of the Carters' home in Plains.
"President Carter said his main concern is that turkey season ends this week, and he has not reached his limit," the statement said. "He hopes the state of Georgia will allow him to roll over the unused limit to next year."
Carter, who was governor of Georgia from 1971 to 1975, served a single four-year term in the White House as the nation's 39th president and was defeated in his re-election bid by Republican Ronald Reagan in 1980.
The former peanut farmer-turned-politician, received the Nobel Peace Prize in 2002 for his humanitarian work, disclosed in August 2015 that he had been diagnosed with a form of skin cancer called melanoma.
In 2017, Carter was briefly hospitalized after suffering dehydration during a trip to Canada.
From AJC:
The 39th president of the United States is known to be an avid hunter. Outdoorhub named him the fifth greatest hunting president."I have used weapons since I was big enough to carry one, and now own two handguns, four shotguns and three rifles, two with scopes," Carter wrote in a 2009 op-ed to the New York Times. "I use them carefully, for hunting game from our family woods and fields, and occasionally for hunting with my family and friends in other places.
We cherish the right to own a gun and some of my hunting companions like to collect rare weapons. One of them is a superb craftsman who makes muzzle-loading rifles, one of which I displayed for four years in my private White House office."
The Times followed then-President Carter home to Plains for Christmas in 1977. "President Carter, home for the holidays, visited with friends and relatives in this little south Georgia village today, answered a few questions from reporters, bought a hunting license and took off into the countryside to do some quail shooting," Charles Mohr of the Times wrote.
Statement from The Carter Center on President Carter's Health pic.twitter.com/9vhamJ9Vgk

— The Carter Center (@CarterCenter) May 13, 2019