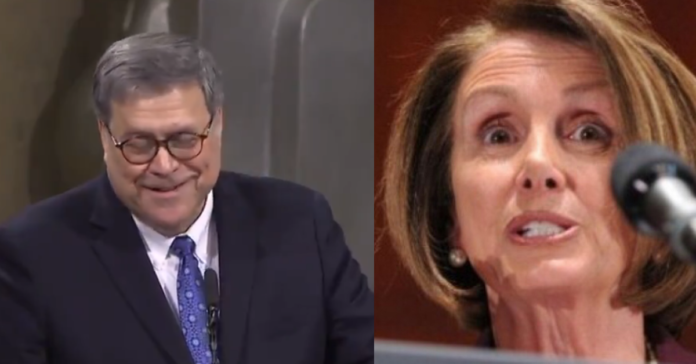 Bill Barr is having a lot of fun at the Democrats expense. As he damn well should after all the nonsense they have thrown at him.
Eric Holder and Barack Obama stonewalled Congress for years to say nothing of the shenanigans Bill Clinton pulled to delay and obstruct Congressional investigations.
It is the way the game is played and Pelosi knows that and so does Barr. That is why all the empty threats from the Dems about throwing Barr in jail are such a joke. The media should be ashamed for running stories saying this as well.
From Big League Politics: A report from Chad Pergram of Fox News claims that Attorney General William P. Barr taunted Speaker of the House Nancy Pelosi (D-Calif.) over the House's threats to charge him with criminal contempt for failing to comply with their subpoena requests.
"Colleague Jake Gibson [reports] AG Barr spoke to Pelosi in person today, after the National Peace Officers Memorial Service at the Capitol. Source says Barr went up to Pelosi & asked her if she brought her handcuffs," Pergram said on Twitter.
Pelosi has accused Barr of lying to Congress, claiming that he "mischaracterized" the Mueller report when he testified last month. That point is moot, as the report was later released. Still, Democrats are harping on it for political gain.
"What is deadly serious about it is the attorney general of the United States of America was not telling the truth to the Congress of the United States," she said at her weekly press conference last Thursday. "That's a crime."
Barr has been at odds with the House Judiciary Committee, and refused testify before them last week.
He has also refused to hand over a fully unredacted version of Special Counsel Robert S. Mueller III's report on "Russian collusion" as requested. Instead, he offered the Committee a less redacted version, which was accepted by Republicans on the Committee, but refused by the Democrats. While the Democrats bloviate about the report, none have read what is contained in the least redacted version available.
Today at a law enforcement ceremony at Capitol:

AG Barr approached Pelosi, shook her hand: "Madam Speaker, did you bring your handcuffs?"

Pelosi smiled and, per a bystander, told Barr the House Sergeant at Arms was there should an arrest be needed. Barr laughed; walked away

— Nicholas Fandos (@npfandos) May 15, 2019
Colleague Jake Gibson rpts AG Barr spoke to Pelosi in person today, after the National Peace Officers Memorial Service at the Capitol. Source says Barr went up to Pelosi & asked her if she brought her handcuffs

— Chad Pergram (@ChadPergram) May 15, 2019