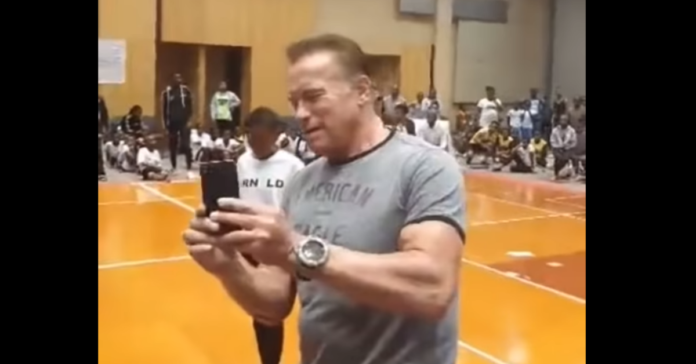 Arnold Schwarzenegger is on a trip to South Africa for some charity event and just got viciously assaulted.
It was caught on camera and while Arnold seems to be ok, he is no spring chicken anymore and this is a nasty attack that could have done serious damage. From The sandtownchronicle:
A video has surfaced of Arnold Schwarzenegger, who is currently in Sandton for the Arnold Classic Africa, being kicked in the back at the Sandton Convention Centre.
The video, which is circulating on social media, shows how Schwarzenegger was watching a rope-skipping competition when he was approached to take a video of the children skipping.
Schwarzenegger obliges and is filmed as he gets up from his seat and then takes a video of the children while speaking into the phone camera. A man can be seen lurking behind him and it seems that he is pulled away by what appears to be Schwarzenegger's security team.
Just as Schwarzenegger hands over the phone on which he was taking his video, the man returns again, runs up, jumps up and kicks Schwarzenegger in the back.
Schwarzenegger tumbles forward into a crowd of people while the man who kicked him is held down by security.
Shortly afterwards, Schwarzenegger takes his seat by the side of the court again, seemingly unharmed by the incident, but a short while later he and his team get up from their seats and move through the convention centre, which is where the video ends.
Arnold was there for the Arnold Classic. This is how they describe it:
We are proud to present the 4th ARNOLD CLASSIC AFRICA, 2019 in South Africa – the biggest multi-sport event on the African Continent. This signature event is completely moulded, designed and delivered in conjunction with the ARNOLD CLASSIC INTERNATIONAL PARTNERSHIP EVENTS in USA, Brazil, Australia, Asia and Europe.
Athletes, spectators, fans both young and old can enjoy a complete multi-sport program involving more than 70 sporting disciplines, exhibitions and championships as well as a FITNESS AND LIFESTYLE TRADE EXPO dedicated to promise healthy lifestyles.
The incredible Sandton Convention Centre, in Johannesburg is our main venue for this prestigious event, we have 4 venues for Arnold Classic Africa 2019.