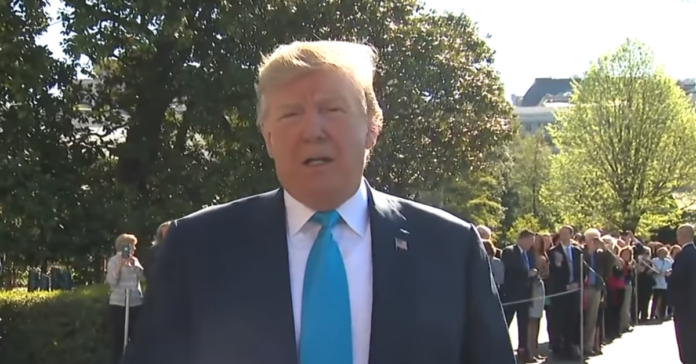 The left is entirely shameless. They really are - it is the little things that truly make them deplorable.
They just hacked President Trump to try to embarrass him and while it didn't work it just shows you their mindset.
Emboldened by their arrogance and ill-humor, they take pleasure useless stunts like this for one reason - because they think being vicious is the same as being funny. From USA Today:
President Trump is at the center of another hacking incident, but this one doesn't involve WikiLeaks.
Four scores were posted to Trump's USGA-administered GHIN handicap system on Friday, a day on which the president returned from New York to Washington and did not actually play golf.
The scores posted were suspiciously unflattering to the famously vainglorious First Golfer: 101, 100, 108, 102. While the GHIN (Golf Handicap and Information Network) system does not publicly identify the venue where a round was played, Golfweek exclusively confirmed that the courses used in the fake scores were Trump National New York (the 100 and 101), Trump International in West Palm Beach (the 108), and the Cochise Course at Desert Mountain in Scottsdale, Arizona.
The scores were posted in the same manner that any other golfer or club in America can post, suggesting that a jokester has obtained access to Trump's GHIN information.
"We have become aware of reports in the media questioning recent scores posted on President Trump's GHIN account. As we dug into the data it appears someone has erroneously posted a number of scores on behalf of the GHIN user," said a statement to Golfweek from Craig Annis, the managing director of communications for the USGA
"We are taking corrective action to remove the scores and partnering with our allied golf associations, and their member clubs, to determine the origin of the issue."
From Golf Digest: On Friday, we relayed the story that, for the first time since October, President Donald Trump posted a score to the USGA's system. This was notable on two fronts. Despite playing 175 times since taking office, Trump rarely inserts his scores to GHIN. Moreover, the score in question was a 68. The president has been known to play a game not adherent to the rules, but a 68, and on a tough track (75.5 rating)? As this president has been wont to say, a whiff of "fake news" surrounded the story.
On Saturday, we got a more plausible explanation for the 68: Someone had hacked into Trump's GHIN score.
According to Alex Raskin of the Daily Mail, a USGA spokesperson said the score is erroneous.
"As we dug into the data it appears someone has erroneously posted a number of scores on behalf of the GHIN user," the USGA told Raskin. "We are taking corrective action to remove the scores and partnering with our allied golf associations and their member clubs to determine the origin of the issue."