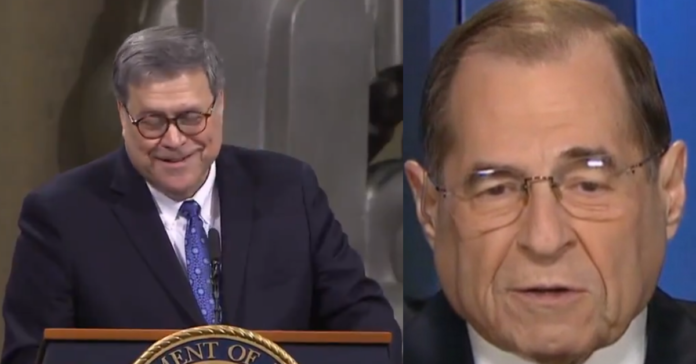 Attorney General William Barr just broke his silence after the Democrats, led by Jerry Nadler, held him in contempt.
This unprecedented step had only been taken by Congress once - when Eric Holder and Obama refused to turn over information on Fast and Furious.
But the GOP Congress tried to negotiate for two years before taking the drastic step of holding Eric Holder in contempt. (see video below)
Enter Bill Barr, who just mocked Jerry Nadler to his corrupt core. From The Washington Examiner: Attorney General William Barr joked about a contempt of Congress vote on Thursday.
During a farewell ceremony for his Deputy Attorney General Rod Rosenstein, Barr poked fun at House Democrats.
"You like records," Barr said at the Justice Department event, referring to Rosenstein. "This must be a record for an attorney general being proposed for contempt within a hundred days of taking office."
After the Justice Department defied a subpoena to hand over special counsel Robert Mueller's full, unredacted report for the Russia investigation, the House Judiciary Committee voted to cite Barr for contempt of Congress on Wednesday, but did so along party lines. Meanwhile, the White House asserted executive privilege over Mueller's findings.
Republicans voted against the contempt resolution, arguing Democrats are seeking to drag out the Mueller probe, which found no criminal conspiracy between the Trump campaign and Russians, but made no determination about whether Trump tried to obstruct the investigation.
Judiciary Committee Chairman Jerry Nadler, D-N.Y., told the press that the United States is now in a "constitutional crisis."
From Fox News: But Nadler took a very different stance on contempt back in 2012, when House Republicans took the same step against then-AG Eric Holder for refusing to hand over documents related to the Fast and Furious gun-running scandal, where DOJ officials tracked thousands of guns smuggled across the border but did nothing to stop them.
"Just joined the #walkout of the House chamber to protest the shameful, politically-motivated GOP vote holding AG [Eric] Holder in contempt," Nadler tweeted in 2012.
He joined more than 100 Democrats in walking out over the vote to hold the Obama-era DOJ leader in contempt.
Then-House Minority Leader Nancy Pelosi, D-Calif., argued House Republicans were more politically motivated in attacking Holder than driven to get to the bottom of the failed operation.
"What is happening here is shameful," said Pelosi.
WATCH: At farewell ceremony for Deputy AG Rosenstein, AG Barr jokes about how quickly he has faced a contempt vote since becoming attorney general. pic.twitter.com/UVmmcplyRm

— MSNBC (@MSNBC) May 9, 2019