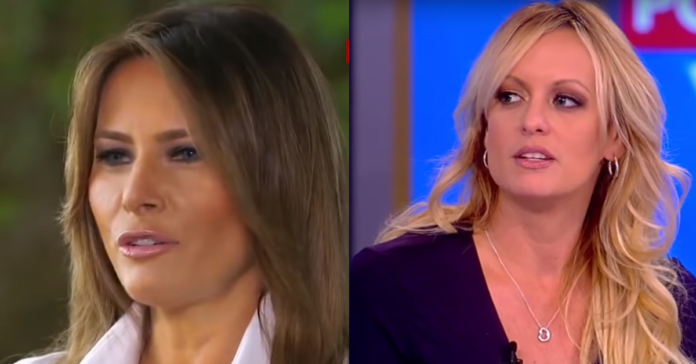 Stormy Daniels' fifteen minutes of infamy is about up, and desperate to stay in the limelight, she is lashing out at Melania Trump of all people.
Stormy showed her vile side when she attacked Melania with a vulgar insult after a Twitter user called out the porn star.
A random twitter user ripped into Stormy tweeting: "I will never forgive stormy for trashing our POTUS. She colluded with the Dems and Michael Avenatti."
Which caused Stormy to attack Melania: "Because I give a flying f*ck about your forgiveness. Excuse me while I cry myself to sleep. Maybe the first twat needs her jacket pressed…you know the "I don't care" one? Haha."
From The Guardian: She called her alleged sexual encounter with Trump in 2006, when he was already married to Melania Trump, "the worst 90 seconds of my life".
At one point she lamented that the mainstream media often refer to her as a former porn star.
"I'm not former!" she yelped. "I'm not retired or washed up. I've directed over 100 movies, including three of the five most expensive porn movies ever made, and I wrote, produced, directed and starred in them." She added: "And I've been stripping for 20 years."
She begged to be referred to as Stormy Daniels, not her birth name of Stephanie Clifford.
"The only people who call me Stephanie are my mother and the IRS and I hate them both," she said.
In response to one question she said that, no, she never had sexual chemistry with her former lawyer, Michael Avenatti, who once spoke of saving the Democratic party and bringing down Trump but is now facing criminal charges.
"He's too short for me, and he thought he was prettier and that's a huge problem for me," she said.
Did she think Donald Trump would be re-elected?
"I hope not."
Stormy is, of course, referring to the first lady's jacket she wore when she mocked the media which read, "I REALLY DON'T CARE, DO U?,"
Because I give a flying fuck about your forgiveness. Excuse me while I cry myself to sleep. Maybe the first twat needs her jacket pressed…you know the "I don't care" one? Haha.

— Stormy Daniels (@StormyDaniels) May 9, 2019