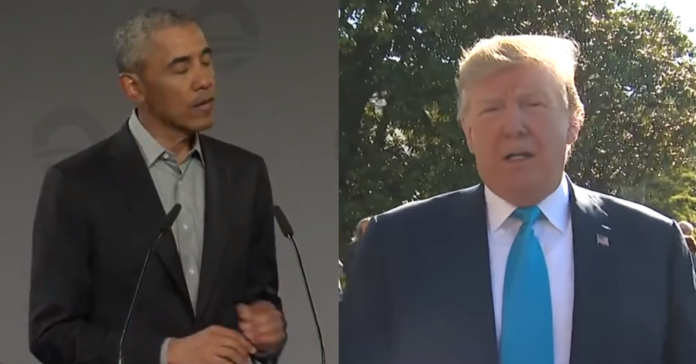 Barack Obama is desperate. His legacy, such as it was, has been slowly dismantled by President Trump and the GOP.
The media will have you believe there is a major backlash and point to Pelosi winning the House, but they ignore the GOP picked up seats in the Senate.
No, the country is still divided and the 2020 election will most probably determine the course of the country for the next twenty years.
So Barack is getting involved with a new plan to stop Trump. It will fail. Because America gambled on Obama and he did not follow through on his promises to bring back our jobs and crack down with China.
Trump has credibility on these issues, Biden and the rest do not, no matter what Obama tries.
From The Hill: Former President Barack Obama and the Democratic National Committee (DNC) on Friday announced a new fund to support the eventual party's 2020 nominee.
Obama, in a DNC email, announced the creation of a "Democratic Unity Fund" that will go to support the party's nominee, as two dozen candidates vie for the party's nomination.
"I'm excited that the DNC asked me to announce a bold new effort: The Democratic Unity Fund. Launching today, the fund will be dedicated to electing our party's eventual presidential nominee and winning up and down the ballot in 2020," Obama said in the email.
"The Democratic Unity Fund is a promise that whoever earns our nomination, he or she will have a strong, united, and well-organized DNC ready to spring into action the moment the general election starts — a DNC that's ready to lift us all to victory in November," he continued.
The email comes after the DNC in 2016 faced accusations of tipping the scales in favor of the eventual nominee Hillary Clinton and against her primary challenger Sen. Bernie Sanders (I-Vt.), who is running again in 2020.
The DNC, now led by Obama's former Secretary of Labor Tom Perez, has sought to introduce more transparency around the nomination process, especially around the dozen debates planned over 2019 and 2020.