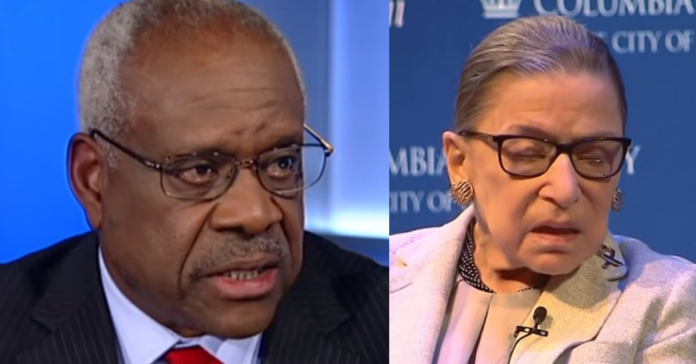 In a rare move, Clarence Thomas ripped his fellow Supreme Court judges for refusing to hear a case that could have helped many veterans.
Thomas found a strange ally in Rith Bader Ginsburg who also thought the servicemen should get their day in court.
From The Washington Examiner: Supreme Court Justice Clarence Thomas rebuked his fellow justices for declining to hear a case challenging a rule that blocks service members from suing the government for medical malpractice, known as the Feres doctrine.
"Such unfortunate repercussions — denial of relief to military personnel and distortions of other areas of law to compensate — will continue to ripple through our jurisprudence as long as the court refuses to consider Feres," Thomas wrote in a dissent of the high court's decision Monday.
The case was brought forward after Rebekah "Moani" Daniel, a labor and delivery nurse in the Navy, died in 2014 at Naval Hospital Bremerton in Washington state. She had given birth to her daughter Victoria and bled to death. Daniel's husband, Coast Guard veteran Walter Daniel, filed a wrongful death lawsuit arguing that the medical team at the hospital did not take appropriate actions to prevent postpartum hemorrhaging.
The lower courts declined to hear the lawsuit due to the Feres doctrine, which was established in 1950 from Feres v. United States. The Supreme Court at that time determined the government could not be held responsible "for injuries to members of the armed forces arising from activities incident to military service."
Thomas argued that "Feres was wrongly decided and heartily deserves the widespread, almost universal criticism it has received." Supreme Court Justice Ruth Bader Ginsburg also voted with Thomas to advance the case.
Walter Daniel, who filed a petition last year for the Supreme Court to hear his case, said the decision fails to protect others from experiencing the same fate as his late wife.
"Sadly, the justice system remains closed to our family, our colleagues and the families who commit their lives to military service," he said in a statement. "Victoria and I won't have the opportunity to learn what led to Moani's death, and to ensure others don't experience the same tragedy."
From Stars and Stripes: The case was on behalf of Rebekah "Moani" Daniel, 33, who bled to death after giving birth to a baby girl, Victoria. The so-called Feres Doctrine bars the Daniels and other servicemembers from seeking such legal recourse.
Though the court declined to let Daniel's petition move forward, Supreme Court Justice Ruth Bader Ginsburg indicated she would have granted a hearing and Justice Clarence Thomas issued a strongly worded dissent to the court's decision. Thomas wrote members of the military will continue to face obstacles to seek government compensation if they are injured while they serve.
Coast Guard veteran Walter Daniel filed the petition to overturn the special legal shield known as the Feres Doctrine after his wife's death at Naval Hospital Bremerton in 2014. She was a labor and delivery nurse at the same hospital where she died.