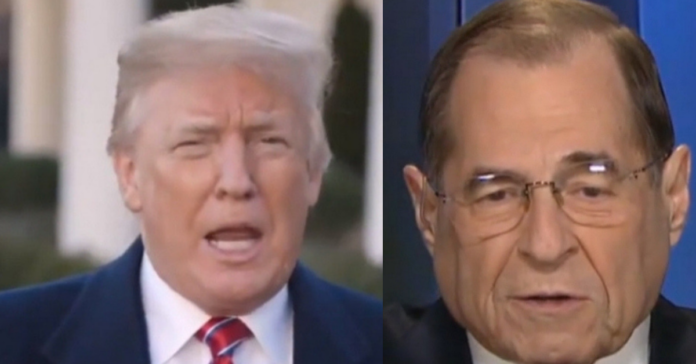 Jerry Nadler loses again as President Trump just checkmated him over a key witness in Nadler's new witch hunt.
What do the Democrats expect to find by redoing the Mueller investigation? They really just want to find politically damaging information they can twist in nefarious ways by leaking to a gullible media.
It is an old playbook and Bill Barr and Trump are correct in not falling for it. From CNN:
Former White House counsel Don McGahn will not appear Tuesday before the House Judiciary Committee, defying the committee's subpoena and setting the stage for another contempt vote to retaliate against the Trump administration for rejecting the demands of Congress.
The White House argues that as a former senior adviser to the President, he is exempt from having to appear before Congress.
The Justice Department's Office of Legal Counsel concluded that former McGahn was not legally required to appear before the House Judiciary Committee and testify about matters related to his official duties as counsel to the President, according to a memo issued Monday and obtained by CNN.
"The Department of Justice has advised me that Mr. McGahn is absolutely immune from compelled congressional testimony with respect to matters occurring during his service as a senior adviser to the President," White House Counsel Pat Cipollone wrote in a letter to House Judiciary Chairman Jerry Nadler.
White House press secretary Sarah Sanders said in a statement that McGahn "cannot be forced to give such testimony, and Mr. McGahn has been directed to act accordingly."
"This action has been taken in order to ensure that future Presidents can effectively execute the responsibilities of the Office of the Presidency," she said.
he White House's move to keep McGahn off of Capitol Hill is the latest in a slew of current and former Trump administration officials defying subpoenas from House Democrats, who are now grappling with how best to respond to the Trump administration's blanket resistance to their investigations into the President.
It marks the second time McGahn has not complied with the Judiciary Committee's subpoena.
He also deferred to the White House in refusing to provide documents that the committee subpoenaed related to McGahn's special counsel interview preparations, which the White House argued were covered by executive privilege.
Nadler, a Democrat from New York, did not move to hold McGahn in contempt after he would not provide those documents, but he has made clear he is likely to do so if McGahn does not appear Tuesday.
The committee is expected to hold the hearing without him, as it did earlier this month for Attorney General William Barr when he did not testify over a dispute about the hearing format.
"We've subpoenaed McGahn. We're expecting him to show up on the 21st, and if he doesn't he will be subject to contempt, unless he has a court order telling him he can't, which I don't think he would get," Nadler said earlier this month.
Read the full letter here.