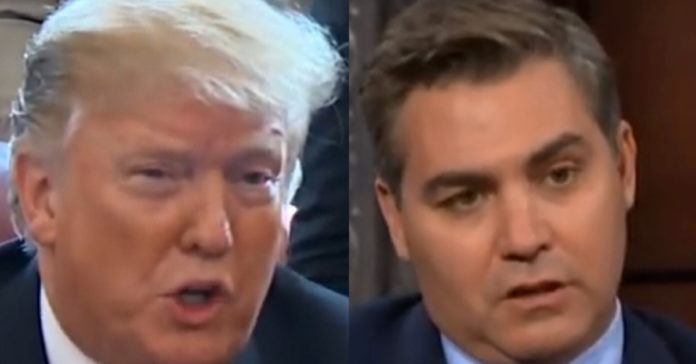 CNN relentlessly pushed and promoted a failed narrative to damage Trump politically. True, they, unlike MSNBC, allowed Trump supporters on the air to rebut the spurious charges.
But their voices were drowned out by the shrill scream of collusion, collusion, collusion by darn near all their "experts" with a wink and nod from the anchors.
Conspiracy sells and CNN used it to get their record ratings. But every action has a reaction and it looks like America has spoken. From The Washington Examiner:
President Trump mocked CNN in response to a report that said the network had its lowest prime time weekly ratings of the year in two categories earlier this month.
"Congratulations," Trump tweeted, sharing a week-old report by the Daily Caller.
The story said CNN had its lowest prime time weekly ratings overall and in the key 25-54 age demographic from April 8-12, citing Nielsen Media Research. During that week, CNN averaged an audience of 690,000 people and 180,000 in the key age demographic.
MSNBC's prime time lineup averaged 1,600,000 viewers with 249,000 in the key age demographic. Both CNN and MSNBC trailed Fox News, which averaged 2,438,000 viewers, with 394,000 in the 25-54 age range.
From The Daily Caller:
The top networks for primetime viewership last week were led by Fox News, followed by MSNBC, the Home and Garden TV, USA Network and TBS Network to round out the top five.
CNN finished 15th, behind networks like Discovery Channel, Food Network, TLC and A&E Network. Their ratings have continued to drop following the conclusion of the Mueller report. It appears like they might have a difficult time bouncing back after investing two years of heavy coverage on the investigation into the Trump campaign's alleged collusion with the Kremlin.
Congratulations! https://t.co/1qWbGqCCyj

— Donald J. Trump (@realDonaldTrump) April 22, 2019