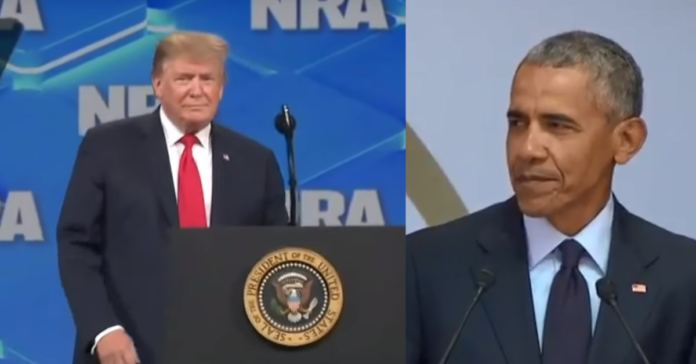 President Trump is a man of action. President Obama was all hot air. Obama was famous for making gestures, for lecturing, for rhetoric.
Trump, by contrast, simply gets stuff done. He is not afraid to act, to take hard positions and he does not care for the political ramifications.
In short, he is a leader and he just ripped up another useless Obama initiative.
From The Epoch Times: President Donald Trump signed an executive order on stage on Friday afternoon to withdraw the United States from the U.N. Arms Trade Treaty (ATT) at the National Rifle Association's (NRA's) annual convention, as a surprise gift to the nation's largest Second Amendment advocacy group.
The United States signed on to ATT in 2013 under the Obama administration, but the treaty has not yet been ratified by Congress. The treaty aims to regulate the international trade in conventional weapons.
"The United Nations will soon receive a formal notice that America is rejecting this treaty," said President Trump during his speech to the NRA attendees, and signed the executive order on the podium.
Trump said that the U.S. Senate will stop the ratification process, send the bill back to the White House, and he will then "dispose of it".
Thousands of NRA members gathered in the Lucas Oil Stadium to welcome and to listen to the speeches of Trump and Vice President Mike Pence.
The NRA has opposed the UN Treaty for years, calling it a threat to American's Second Amendment rights.
Trump took this line in his remarks. He said, "Under my administration we will never surrender American sovereignty to anyone, we will never allow foreign bureaucrats to trample on your Second Amendment freedom and that is why my administration will never ratify the U.N. trade treaty."
"By taking this action, we are reaffirming that American liberty is sacred, and that American citizens live by American laws, not the laws of foreign countries," Trump said.
Pence spoke before Trump, and said no other presidents in the modern era have done so much as Trump in so little time.
Pence emphasized that guns don't threaten American families and communities, but protect them. Pence also said freedom has been winning across the nation under the current administration.
Founded in 1971, the NRA is the largest pro-second amendment group in the country. It reports having 5 million members in the United States, and is the oldest continuously operating civil liberties organization.
Reagan was the last sitting president who spoke to the annual NRA event.
"Never disarm any American who seeks to protect his or her family from fear and harm," said former President Reagan when addressing NRA's 112th annual gathering in May 1983. Reagan stressed the importance of constitutional freedoms as "every American's birthright."