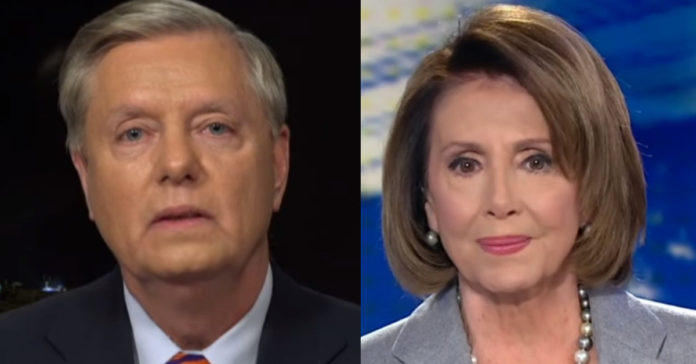 Lindsey Graham just disarmed Nancy Pelosi - he took her best weapon in the coming impeachment battle with Trump right out of the Democrat's hands.
Look, Trump has been criminally cleared of all charges, but politically he has not. The Democrats would be wise to learn from history and avoid a losing impeachment effort.
But the left smells blood in the water and think they have a winning argument: just because Trump's team did not follow through because they knew Trump was just venting, Trump is not in the clear.
In other words, thought crimes and now a thing in Washington and we have entered a dystopian novel. Enter Lindsey to bring everyone back to reality.
Sen. Lindsey Graham (R-S.C.), the chairman of the Senate Judiciary Committee, said Sunday that he doesn't care if President Trump told former White House counsel Don McGahn to fire special counsel Robert Mueller.
 "I don't care what they talked about. He didn't do anything. The point is the president did not impede Mueller from doing his investigation," Graham said Sunday on CBS's "Face the Nation" when host Margaret Brennan noted that, according to the special counsel's report, Trump in 2017 ordered McGahn to fire Mueller.
 "I don't care what happened between him and Don McGahn," Graham continued. "Here's what I care about: Was Mueller allowed to do his job? And the answer is yes."
A redacted version of Mueller's report, released earlier this month, detailed several episodes in which Trump potentially obstructed justice during Mueller's investigation into Russia's election interference.
The report states that McGahn refused when Trump ordered him to fire Mueller and that McGahn decided "he would resign rather than trigger what he regarded as a potential Saturday Night Massacre."
Trump last week denied ordering McGahn to fire Mueller, saying that if he wanted to fire the special counsel, he would have done so himself.
"As has been incorrectly reported by the Fake News Media, I never told then White House Counsel Don McGahn to fire Robert Mueller, even though I had the legal right to do so," Trump tweeted. "If I wanted to fire Mueller, I didn't need McGahn to do it, I could have done it myself."