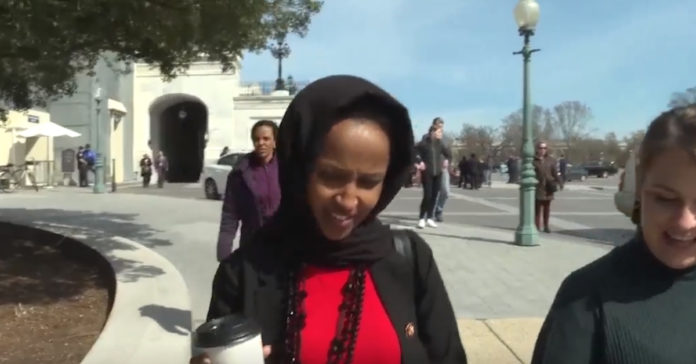 In a stunning turn of events, Ilhan Omar, the new Democratic representative that has captured liberal hearts and minds, may be facing jail time.
An investigation into whether she looted her campaign to pay for personal expenses, including a divorce lawyer, has just wrapped up and it does not look good for Omar.
From WJLA: Rep. Ilhan Omar, D-Minn., the controversial freshman House Democrat, is soon to learn the results of a probe into her campaign spending as a state lawmaker in Minnesota, Sinclair has learned, with authorities there having recently completed their investigation and preparing to issue rulings in a pair of complaints Omar faces.
The complaints were filed last year, while Omar cruised to election to the House of Representatives, by a Republican state lawmaker, Rep. Steve Drazkowski. In referring Omar to the Minnesota Campaign Finance Board, Drazkowski alleged that Omar improperly spent close to $6,000 in campaign funds for personal use, including payments to her divorce attorney and for travel to Boston and Estonia. Drazkowski's filing of the two complaints followed an earlier episode in which Omar repaid $2,500 for honoraria she received for speeches at colleges that receive state funding, a violation of ethics rules for Minnesota lawmakers.
"I had observed a long pattern," Drazkowski told Sinclair in an interview from his office in southeastern Minnesota. "Representative Omar hasn't followed the law. She's repeatedly trampled on the laws of the state in a variety of areas, and gotten by with it."
Approached by Sinclair as she left the Capitol on March 28, accompanied by an aide, Omar refused to answer any questions about the campaign finance allegations. The aide suggested Sinclair try to schedule an interview instead. When Sinclair contacted Omar spokesman Jeremy Slevin for that purpose, he directed that the inquiry be routed to his personal email account; an inquiry subsequently sent to that account produced no reply from Slevin. The Minnesota campaign finance board, following standard practice, declined to confirm or deny whether it has opened an investigation into the subject of any complaint.
On his website, Drazkowski published updates on the cases, including quotations from formal notifications he said he had received from the campaign finance board in which the panel apparently informed Drazkowski that it had commenced the investigation into the two matters. "The Omar Committee's 2017 year-end report shows several noncampaign disbursements for out-of-state travel for Rep. Omar to attend various events," one notification read, according to Drazkowski, adding: "The information on the committee's 2017 year-end report does not indicate how attendance at these events would have helped Rep. Omar in the performance of her legislative duties."
 Zielinski sought to use the campaign finance allegations against Omar during a debate they held in the studios of Minnesota Public Radio on Oct. 23 of last year. Moderator Tom Crann picked up the issue, posing a series of questions to Omar about the complaints. Omar said Drazkowski was "bigoted" and said she had at that point not received any notification from the campaign finance board as to whether it was formally investigating Drazkowski's complaints. Asked three times by Crann if she had misused campaign funds for travel, however, Omar hesitated before replying in a halting manner: "If there was, um — [pauses] — an, an improper action, I would not have used it."
Omar has said elsewhere that the payments to her divorce lawyer reflected compensation for legal services rendered to one of her state campaigns. In an editorial published Oct.12, the Minnesota Star-Tribune called on Omar to provide more information about her campaign spending, saying "Fifth District voters deserve a fuller response" on the travel allegations.
Sources close to the investigative process in the North Star State told Sinclair the campaign finance board has completed its review of both complaints filed by Drazkowski, relating to the divorce lawyer and the travel expenses, and will issue its rulings on them within the next month to six weeks.