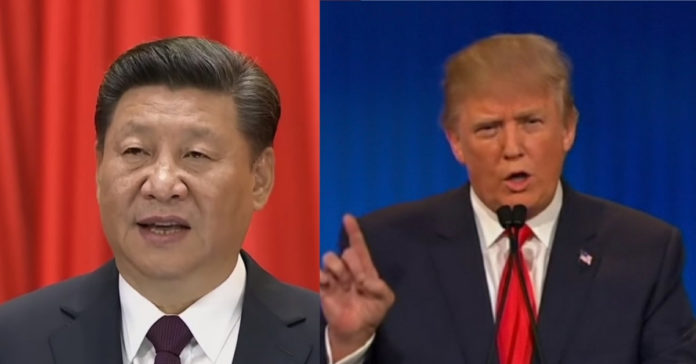 China is desperate. Their economy is drastically slowing which may well lead to domestic unrest.
They used our stupid leaders and the greed of our corporations to steal our middle class and grow from a third world backwater to an industrial power in one generation.
It was an audacious plan, only made possible because our leaders were so stupid, and it paid off.
But there are no more jobs to steal, and in fact, companies are now moving to lower cost countries like Vietnam.
When you add Trump's tariffs to the mix, we see that companies are moving to Vietnam and other countries from China at a record pace.
At the same time, China is the most repressive country on the face of the earth or well on its way, and because people's like to be free, trouble is on the horizon for that totalitarian regime.
The fact is we could, right now if we wanted, use our leverage to squeeze the Chinese in many ways - we could stop selling them microchips to power their phones and other electronics basically bringing their economy to a halt.
China has not mastered the complex design and manufacture of advanced chips - despite reverse engineering everything in sight, and are still dependant on the west for those key pieces of technology.
In other words, we have the leverage now (we may not forever) and Trump, for the first time, aims to use it to our advantage.
China does not know what to do with Trump, and they are getting worried. They thought not buying our agriculture products would cause a split between Trump and his base and they went so far as to take out full-page ads blaming Trump for the farmer's problems.
But the farmers stuck with Trump, throwing that plan into disarray. So they try this sneak move instead. It won't work, China will finally have to play it straight or they will be left behind because we finally have a leader who knows how to use leverage and is not afraid to get tough.
From CNBC:
A Chinese woman has been charged with making a false statement to the U.S. Secret Service after entering President Donald Trump's Mar-a-Lago resort in Florida on bogus pretenses, while carrying a thumb drive that contained "malicious software," court documents revealed Tuesday.
A criminal complaint says the woman, Chinese national Yujing Zhang, was on the luxury Palm Beach property on Saturday, at around 12:15 p.m., while Trump was playing golf at the Trump International course nearby.
Zhang, after passing by at least five Secret Service agents and arriving in the main reception area of Mar-a-Lago, later claimed to the Secret Service that she was there to attend a "United Nations Friendship Event" between China and the United States, the complaint said.
That event did not exist, according to the complaint, which was filed in U.S. District Court in Southern Florida, and which was written by a Secret Service agent.
Zhang was found to be carrying four mobile phones, a laptop computer, an external hard drive, and a thumb drive.
"A preliminary forensive examination of the thumb drive determined it contained malicious software," the complaint said.
The Secret Service declined to comment, citing the "ongoing investigation." A spokesman for Mar-a-Lago did not immediately respond to CNBC when asked for comment.
Zhang was charged with making false statements to a federal officer, and entering or remaining in a restricted building or grounds. A lawyer for her did not immediately return a request for comment.
Trump was at Trump International golfing from 9:37 am to 3:45 p.m. on Saturday, while Zhang arrived at Mar-a-Lago, gained entrance to it, and was detained by the Secret Service. He returned to Mar-a-Lago at around 4 p.m. Saturday.
According to the criminal complaint, Zhang was admitted to Mar-a-Lago after passing through a Secret Service checkpoint, where she presented an agent with two Republic of China passports carrying her name, and her photograph, the complaint said.