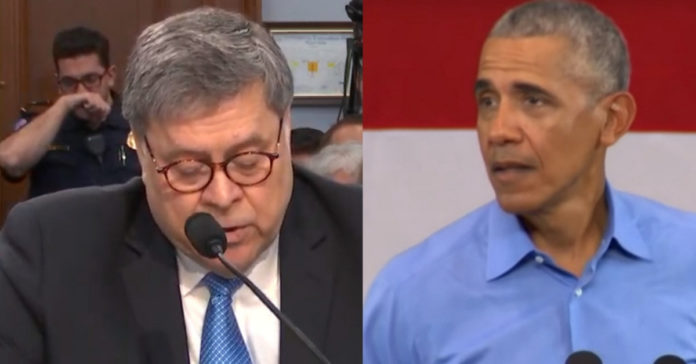 Bill Barr just made the responsible move and will end Barack Obamas failed catch and release program.
Look, no one blames the migrants for wanting a better life but we must have control over our borders and our sovereignty.
Our system incentivizes the wrong kind of behavior. So we need to make some changes but Congress has stymied the Trump administration.
Enter Bill Barr. He will use existing laws to overrule precedent and end this program thus bringing some sanity to our southern border.
From CNN: Attorney General William Barr decided Tuesday that some asylum seekers who have established credible fear and are subject to deportation cannot be released on bond by immigration judges — a major reversal from a prior ruling that could lead to immigrants being held indefinitely.
The decision means the Department of Homeland Security alone will have the discretion to decide whether to release immigrants who crossed the border illegally and later claimed asylum.
The ruling effectively blocks concerted efforts by immigration lawyers and immigrant rights advocates to push for bond hearings for detained asylum-seekers. The advocates argue that there's no reason for the United States to detain people who are seeking safety and have already cleared hurdles to prove they have a credible case.
While advocates argued that bonds set for detained asylum-seekers were often prohibitively high, a number of crowdfunding efforts in recent months had aimed to help immigrants get money to pay bonds and get out of detention.
Asylum seekers who presented themselves at legal ports of entry were already unable to be released on bond by immigration courts.
On October 12, 2018, the attorney general "directed the Board of Immigration Appeals to refer Matter of M-S- for his review," according to a Justice Department fact sheet.
Barr's ruling could likely affect thousands of migrants apprehended at the border, many of whom are seeking asylum and would be subject to expedited removal.
"Basically if you pass the initial asylum screening you can now be indefinitely detained," said immigration attorney Eileen Blessinger, who called Barr's decision "horrible news."
Omar Jadwat, director of the ACLU's Immigrants' Rights Project, said the organization plans to challenge the decision.
"This is the Trump administration's latest assault on people fleeing persecution and seeking refuge in the United States," Jadwat said in a statement. "Our Constitution does not allow the government to lock up asylum seekers without basic due process. We'll see the administration in court."
Barr's decision marks the first time he's used his position to overrule precedent-setting decisions in immigration court — a power the US attorney general has because immigration courts are not independent and are part of the Justice Department. His predecessor, former Attorney General Jeff Sessions, used this power to make major overhauls on immigration policies, including a decision that makes it harder for domestic violence victims to win asylum cases.
"It's an extension of the Jeff Sessions campaign to further strip the immigration courts and immigration judges of their authority," said David Leopold, Counsel to DHS Watch and former President of the American Immigration Lawyers Association.