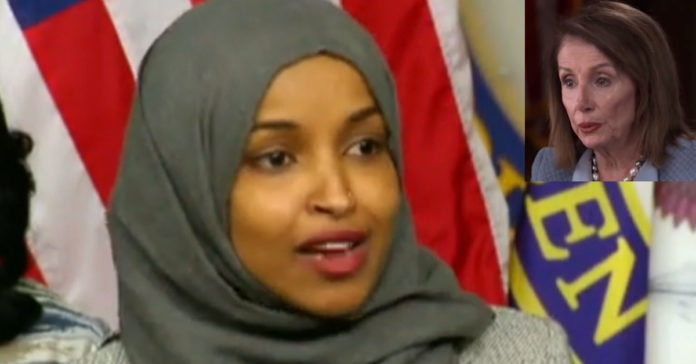 The Democrats are finally getting wise and are abandoning Ilhan Omar and her many controversies.
How serious is it? Politicians are returning the money she donated to their campaigns. You ever seen a politician give money back? Me neither.
Looks the rats are fleeing the sinking ship that is Ilhan Omar. From The Free Beacon:
The reelection campaign for Rep. Lucy McBath (D., Ga.) said Wednesday it rejected a $2,000 contribution sent to it by her fellow Democratic freshman congresswoman Ilhan Omar (Minn.), who has been criticized by colleagues on both sides of the aisle for anti-Semitism.
The Free Beacon first reported the $2,000 contribution given by Omar to McBath, whose campaign oddly left the contribution off its quarterly fundraising report. Pressed on the reason for its absence on Tuesday, the McBath campaign said only, "Our report is accurate," and declined to provide further details.
McBath's campaign admitted on Wednesday, however, that  the lack of disclosure was due to a decision to reject the money from Omar, according to the Atlanta Journal-Constitution.
Up in D.C., the conservative Free Beacon has pointed to a $2,000 campaign contribution that U.S. Rep. Illhan Omar, D-Minn., reported making to fellow freshman Democrat Lucy McBath of Marietta.
The website noted that McBath did not report the contribution—which is true. The McBath campaign told us this morning that the contribution was not accepted.
Omar is one of two Muslim lawmakers elected to Congress in 2018. She has recently been criticized by Republicans, including President Donald Trump, who allege she recently spoke too lightly of 9/11 during a speech last month. She has also made remarks interpreted by many as anti-Semitic.
McBath's rejection of the donation is more important than it may sound. The Sixth District has a significant Jewish population – particularly in Sandy Springs and east Cobb County.
Omar, who raised over $800,000 in her first quarter fundraising as a member of Congress, also gave money to three other colleagues. Two of them, Reps. Lauren Underwood (D., Ill.) and Haley Stevens (D., Mich.), accepted the money and reported the contributions.
From The Daily Wire: WSCO TV reporter Joe Bruno reported on Wednesday that Dan McCready (D-NC) also returned a $2,000 donation from Omar.
"Dan McCready has refunded a $2000 donation from Rep. Ilhan Omar," Bruno reported. "A spokesperson for McCready tells me Dan believes there is no place for divisiveness in politics and he didn't feel it was appropriate to accept the donation."
NEW: Dan McCready has refunded a $2000 donation from Rep. Ilhan Omar. A spokesperson for McCready tells me Dan believes there is no place for divisiveness in politics and he didn't feel it was appropriate to accept the donation #NC09 #ncpol @wsoctv

— Joe Bruno (@JoeBrunoWSOC9) April 17, 2019