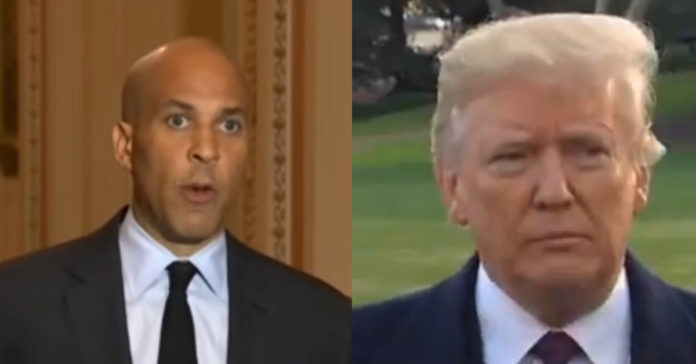 Cory Booker just had another Spartacus moment and it will sink him in the Democratic primary.
To be fair to Cory, if he gets a miracle and becomes the Democratic nominee his new Trump-like position on immigration will be a huge bonus.
But in the primary, it is all about the radical left base and they will not be happy with Booker.
From The Federalist Papers: New Jersey Sen. Cory Booker has come out and actually taken President Donald Trump's side in acknowledging the crisis at the Southern border.
The 2020 Democrat presidential candidate further called on his fellow Democrats to get on board and acknowledge the crisis.
"We do have a problem at the southern border," he said at a campaign event in Sergeant Bluff, Iowa on Tuesday.
"Democrats should not deny that we [do]. Nations should have borders, borders should be respected," he said.
This marks a stark disparity from the usual Democrat line since President trump came in to power in which they have essentially argued for open borders.
""And so, my beef with this president is that number one, his technologies don't work," he said getting back on track not knocking the president.
"I've gone down to the border, I've hung out with [Customs and Border Protection] and other border patrol folks and they're like, 'there's no way we need a wall coast to coast,'" he said.
"We have a time now where you can use sensors and technologies and drones and a lot more to protect the border, which is what we should do."
From The Hill: Trump is weighing additional steps to try to curb illegal immigration, including an overhaul of asylum laws. He has also controversially floated the idea of sending detained immigrants to so-called "sanctuary cities" as revenge against his political enemies.
Trump has touted his plans as necessary to reverse a rising wave of migrants making their way into the country, who the president has cast as gang members and rapists.
Booker criticized Trump's rhetoric on the issue during his comments.
"We have to talk about the problem for what it is, not let people demonize that and then do the things that protect our country. But never ever violate the values, the human dignity of another person," Booker said.
Sen. Cory Booker: "Nations should have borders. Borders should be respected." https://t.co/zdW4yY3LwN pic.twitter.com/c6DxDRHv1y

— The Hill (@thehill) April 17, 2019