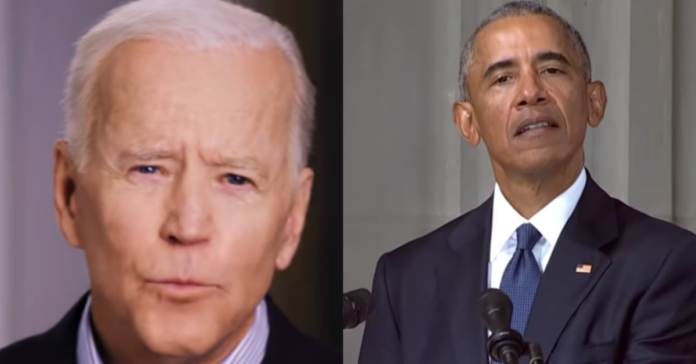 If it looks like a snub and sounds like a snub you can be sure it's a snub. Joe Biden is officially in the race to beat Trump and just got snubbed by his loyal friend Barack Obama.
Biden came out with a weird video, highlighting not what he will do for middle America but that he wants to fight Trump for the 'soul of America' in his announcement.
He basically called Trump a racist and in that way won the race to the gutter before the game even began.
But that is all good and well for Biden and means little. What he really wants and what he wanted in 2016 was Barack Obama's endorsement. And he needs it.
He felt snubbed in 2016 when Barack did not forcefully back him when he considered running, according to multiple reports. So surely this time Obama would stand tall with his buddy?
Nope, another snub. Obama refused to endorse Biden…again. From Breitbart:
"President Obama has long said that selecting Joe Biden as his running mate in 2008 was one of the best decisions he ever made," Obama said in a statement released through his spokeswoman Katie Hill. "He relied on the Vice president's knowledge, insight, and judgment throughout both campaign and the entire presidency. The two forged a special bond over the last 10 years and remain close today."
Biden formally joined the crowded Democrat presidential contest on Thursday, declaring the soul of the nation at stake if President Donald Trump wins re-election.
In a video posted on Twitter, Biden focused on the 2017 deadly clash between white supremacists and far-left counter-protesters in Charlottesville, Virginia. He repeated the hoax claim that President Trump praised the former group as "very fine people."
"We are in the battle for the soul of this nation," Biden said. "If we give Donald Trump eight years in the White House, he will forever and fundamentally alter the character of this nation — who we are. And I cannot stand by and watch that happen."
"It was there on August of 2017 we saw Klansman, and white supremacists and neo-Nazis come out in the open, their crazed faces illuminated by torches, veins bulging, and baring the fangs of racism…"
"At that moment, I knew that the threat to this nation was unlike any I had ever seen in my lifetime,"
According to the TIME magazine, some close to Biden are worried that his 2020 preparations had thus far largely been a failure. "I've never seen anything so half-assed," one former Biden aide said last week.
"They're improvising and doing last-minute planning. The guy has been running for President since 1987 and can't figure the basics out, like where to stand on his first day? This should make everyone very nervous."
Statement from Obama's spox on Biden jumping into the race: pic.twitter.com/ra0l4Q4VVV

— Jackie Alemany (@JaxAlemany) April 25, 2019