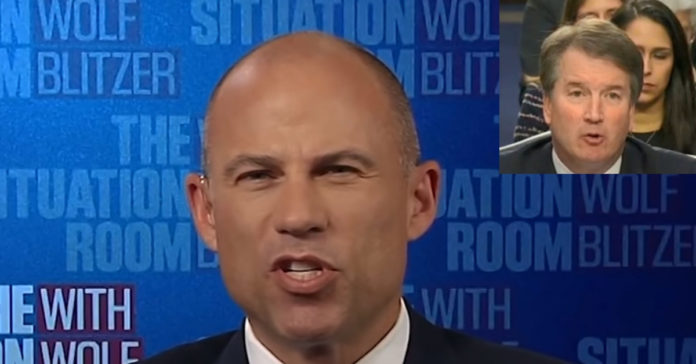 Michael Avenatti just got some bad news and he is begging America to give him the benefit of the doubt and presume him innocent until convicted.
Which is the exact opposite treatment he gave to Brett Kavanaugh and Donald Trump Jr. Avenatti tried and convicted them using the gullible media as his weapon.
They fell for it and hopefully, they will cover the fall from grace with as much energy. First, Avenatti had his $4.5 million private jet seized.
And now he was just named in a new 36-count indictment by the feds. From Fox News:
Embattled lawyer Michael Avenatti was the subject of a federal warrant Wednesday that resulted in the seizure of his private jet, worth about $4.5 million.
A U.S. Attorney's Office spokesman, Thom Mrozek, confirmed to Fox News that federal agents seized a Honda HA-420 twin-engine jet from Santa Barbara Airport about 10 a.m. after a federal judge issued a warrant.
The plane was originally scheduled to be flown Wednesday to Orange County on Avenatti's behalf, but pilots had to file a new flight plan to San Bernardino County.
"Federal authorities have seized a jet co-owned by Mr. Avenatti pursuant to a seizure warrant issued by a federal judge. This seizure is related to the pending criminal case in Los Angeles," a federal official told Fox News.
Avenatti told Fox News on Wednesday: "I haven't used the plane in almost a year and I gave up my interest last year. I have no interest in the plane and could care less." 
No one believes you. Here are the new charges. From ABC:
Federal prosecutors in California plan to level fresh charges against Michael Avenatti on Thursday, marking yet another legal blow for the controversial celebrity attorney known for representing adult film actress Stormy Daniels.
The U.S. attorney's office in the Central District of California scheduled a press briefing in conjunction with the IRS to "announce the filing of a 36-count indictment naming Michael Avenatti."
For 20 years, I have represented Davids vs. Goliaths and relied on due process and our system of justice. Along the way, I have made many powerful enemies. I am entitled to a FULL presumption of innocence and am confident that justice will be done once ALL of the facts are known.

— Michael Avenatti (@MichaelAvenatti) April 11, 2019