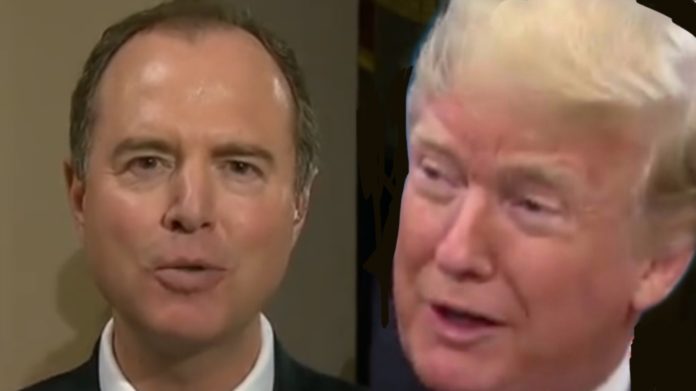 The Democrats are throwing everything including the kitchen sink at president Trump as they launch their far-reaching investigations.
They want documents on everything and are dangerously close to setting some bad precedents for history.
Trump for his part has a simple solution to stop the madness - ignore Adam Schiff and Pelosi's team of presidential harassers.
The left will scream foul at this move by Trump, but remember, Bill Clinton fought tooth and nail before eventually he was forced to turn over documents.
Obama also put up a good fight with those involved with Hillary's Benghazi blunder demanding immunity before testifying.
This is a smart move by Trump's defense and while the courts could be involved at some point (even though the law favors Trump), for now, Adam Schiff gets nothing.
From The Hill:
The White House is rejecting a sweeping request from House Democrats for documents and interviews related to President Trump's communications with Russian President Vladimir Putin.
In a letter obtained by The Hill, White House counsel Pat Cipollone asserts that the president's diplomatic communications are confidential and protected by executive privilege and describes the requests as beyond Congress' legitimate realm of inquiry.
Cipollone also argues that such a disclosure could have a detrimental impact on the ability of Trump or future presidents to conduct foreign relations.
"The President must be free to engage in discussions with foreign leaders without fear that those communications will be disclosed and used as fodder for partisan political purposes.  And foreign leaders must be assured of this as well," Cipollone writes in the letter sent Thursday to House committee chairmen Adam Schiff (D-Calif.), Elijah Cummings (D-Md.), and Eliot Engel (D-N.Y.).
"This is why, from the Nation's beginning, Presidents from all political parties have determined that the law does not require the Executive Branch to provide Congress with documents relating to confidential diplomatic communications between the President and foreign leaders," he writes.
Schiff, Cummings and Engel – who chair the Intelligence, Oversight and Foreign Affairs Committees, respectively – sent letters to the White House and State Department in early March seeking a slew of documents and transcribed interviews with executive branch staff related to a burgeoning investigation into Trump's communications with Putin.
The request is one of several that the White House is contending with as House Democrats move forward with a series of probes into Trump, his administration and business dealings.
From Politico:
 In his letter to Intelligence Chairman Adam Schiff (D-Calif.), Foreign Affairs Chairman Eliot Engel (D-N.Y.), and Oversight and Reform Chairman Elijah Cummings (D-Md.), Cipollone cited precedents under past presidents to assert Trump's authority to conduct foreign affairs, and to argue that Congress has no right to information about one-on-one conversations between the president and a foreign leader.
"It is settled law that the Constitution entrusts the conduct of foreign relations exclusively to the Executive Branch, as it makes the President 'the sole organ of the federal government in the field of international relations,'" Cipollone wrote.