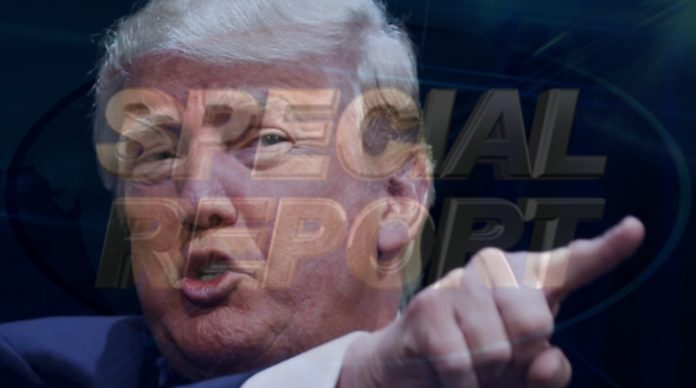 President Trump just made his move to change 52 years of American policy in the Mideast. This is a big move and one Bibi Netanyahu will champion when he arrives here for meetings.
"After 52 years it is time for the United States to fully recognize Israel's Sovereignty over the Golan Heights, which is of critical strategic and security importance to the State of Israel and Regional Stability!" Trump said.
From Haaretz: U.S. President Donald Trump took to Twitter on Thursday evening to state that it was time the United States recognized Israeli sovereignty over the Golan Heights, territory it occupied in the 1967 war.
Last week the U.S. State Department scraped the word "occupied" when referring to the Golan Heights in its annual human rights report for 2018. The change, which now reads "Israeli-controlled territory" strays from the language used by previous administrations.
A separate section on the West Bank and Gaza Strip — areas that Israel captured along with the Golan Heights during the Six-Day War in 1967 — also did not refer to those territories as being "occupied" or under "occupation."
This comes on the heels of Trump's peace plan for the region leaking. Now, the plan is radical and the 'experts' are trashing it but we all know that just means it may actually work.
Look, we have tried many solutions in that region so it is time for some out of the box thinking. It should be noted Kushner and team Trump deny the leak is accurate as the plan is still being finalized.
From Jpost:
Ward cites "multiple people who saw drafts of the plan" created by Kushner that would involve not just Israel and the Palestinians but also Saudi Arabia, Jordan, Egypt and the United Arab Emirates.
"What Kushner wanted… was for the Saudis and Emiratis to provide economic assistance to the Palestinians," Ward wrote. "There were plans for an oil pipeline from Saudi Arabia to Gaza, where refineries and a shipping terminal could be built. The profits would create desalination plants, where Palestinians could find work, addressing the high unemployment rate."
Ward said that the plan also included land swaps, where Jordan would give land to the Palestinian territories, and "in return, Jordan would get land from Saudi Arabia, and that country would get back two Red Sea islands it gave Egypt to administer in 1950."
After 52 years it is time for the United States to fully recognize Israel's Sovereignty over the Golan Heights, which is of critical strategic and security importance to the State of Israel and Regional Stability!

— Donald J. Trump (@realDonaldTrump) March 21, 2019