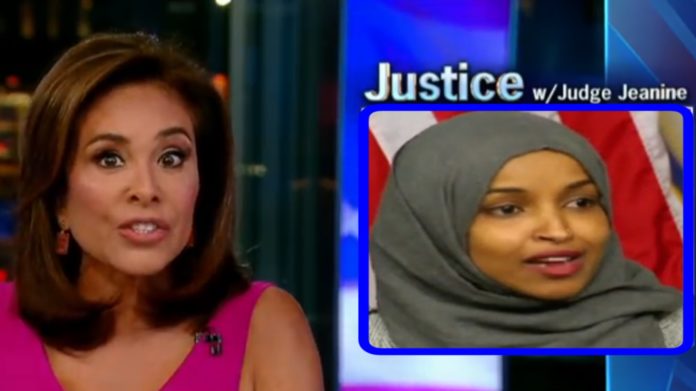 A stunning new leak from inside Fox News just exposed who did the dirty deed and got Judge Jeanine Pirro suspended.
This comes just after Fox has officially split up and Ruper Murdoch's more liberal son has taken the reins at the erstwhile conservative network.
Look, the younger Murdoch inherited, not built an empire, and he leans to the left so do not be surprised if he forgets his friends and tries to change Foxnews, or worse, sell it.
From The Gateway Pundit: A source with intimate knowledge of the situation is claiming two Fox News hosts secretly maneuvered to get Judge Jeanine Pirro suspended over her controversial remarks about Muslim Rep. Ilhan Omar (D-MN), with one, Bret Baier, allegedly seeking to curry favor with Democrats to reverse a decision to not allow Fox to host any of the party's presidential primary debates by getting Fox to suspend Pirro.
The source asked TGP for anonymity to speak freely about the behinds the scenes maneuvers:
The original complaint came from Bret Baier's team. Bret saw an opportunity to make Fox News acceptable enough to the left, so he could get himself a job of hosting the Democratic Debates. Bret supported one of his producers, Hufsa Kamal, in tweeting out a condemnation of Judge Jeanine to put pressure on Fox News to suspend her show. Hufsa Kamal, a producer of Special Report with Bret Baier, has a history of anti-conservative tweets.
Shepard Smith, known as a "never-Trumper", also played a major role in the Judge's suspension. "He lobbied 24/7 to suspend her."
Fox News placed Jerry Andrews, a far-left, anti-conservative  as Executive Producer of Justice with Judge Jeanine to "muzzle Judge Jeanine from speaking the truth." Andrews has a long history of anti-conservative, anti-Trump social media activity.
Fox News has made no official statement on Pirro's future with the cable network, other than to say it would not comment on "internal scheduling matters," as the network abruptly pulled her regularly scheduled Justice with Judge Jeanine show last Saturday night and has apparently canceled this upcoming Saturday's show. Anonymous sources have filled in TGP and other outlets reputed backstabbing maneuvering against Pirro.
Fox's silence shows a lack of commitment to return Pirro to the air.
On Monday, Fox announced it was hiring former Democratic National Committee Chair Donna Brazile as a Fox News Contributor. When she worked for CNN in 2016, Brazile was busted for secretly feeding Hillary Clinton debate questions.
Anonymous sources at Fox relayed to reporters at CNN and the New York Times on Sunday that Pirro has been suspended for two weeks for her comments about Omar and a possible conflict between her adherence to Shariah Law, as represented by her wearing a hijab, and her oath to defend the Constitution. The context of Pirro's comments was the roots of Omar's anti-Semitism and what it means for the future of the Speaker of the House Nancy Pelosi (D-CA) and the Democratic Party.
NYT matches my reporting from earlier today: Fox's Jeanine Pirro "has been formally suspended by the network because of her remarks, according to a person told of the decision…" https://t.co/yC5AAx1r1j

— Brian Stelter (@brianstelter) March 18, 2019