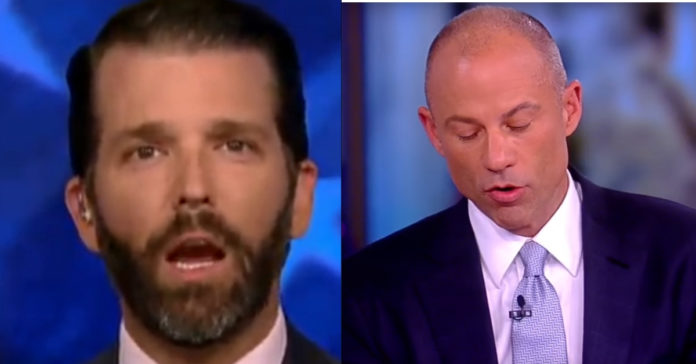 Donald Trump Jr. just landed a knockout blow to arch criminal Michael Avenatti. Avenatti was just hit with multiple charges including extortion, bank fraud and embezzling a client's money.
If guilty he will be spending a significant portion of his remaining days locked in a cell. Avenatti famously predicted Don Trump Jr would be arrested soon by Mueller. He was wrong. So today Don Jr got some sweet revenge. He tweeted out:
"Hey @MichaelAvenatti - It looks like you'll be the one spending time behind bars after all. #basta"
"Good news for my friend @MichaelAvenatti, if you plead fast enough, you might just get to share a cell with Michael Cohen! #basta"
"#MAGA - Michael Avenatti Getting Arrested!!!" "Karmas a bitch huh. #basta."
From CNBC:
Celebrity lawyer Michael Avenatti has been arrested on charges related to an alleged $20 million extortion of the athletic apparel company Nike, federal authorities in New York City said Monday.
Avenatti also is charged in a separate federal case out of Los Angeles, where he is accused of embezzling a client's money "in order to pay his own expense and debts," and of "defrauding a bank in Mississippi," prosecutors said.
A press conference is scheduled to discuss the charges against Avenatti in Los Angeles on Monday afternoon. Avenatti is due to be presented in federal court on Monday.
"A lawyer has a basic duty not to steal from his client," said U.S. Attorney for Los Angeles Nick Hanna. "Mr. Avenatti is facing serious criminal charges alleging he misappropriated client trust funds for his personal use and he defrauded a bank by submitting phony tax returns in order to obtain millions of dollars in loans."
The charges were revealed less than an hour after Avenatti announced a press conference to discuss purported claims against Nike. An FBI agent said in the complaint in New York that the lawyer had threatened to hold a press conference on the eve of Nike's quarterly earnings call to announced "allegations of misconduct by employees of Nike."
In the Los Angeles case, Avenatti is accused of negotiating a $1.6 million settlement for a client in a civil case, but then giving the client "a bogus settlement agreement with a false payment date of March 10, 2018," according to the U.S. Attorney's Office in Los Angeles.
Hey @MichaelAvenatti - It looks like you'll be the one spending time behind bars after all. #basta https://t.co/7RioOcmNVp

— Donald Trump Jr. (@DonaldJTrumpJr) March 25, 2019
That office said "Avenatti misappropriated his client's settlement money and used it to pay expenses for his coffee business, Global Baristas US LLC, which operated Tully's Coffee stores in California and Washington state, as well as for his own expenses.:
"When the fake March 2018 deadline passed and the client asked where the money was, Avenatti continued to conceal that the payment had already been received, court documents said," according to prosecutors.
"Avenatti also allegedly defrauded a bank in Mississippi by submitting to the lender false tax returns in order to obtain three loans totaling $4.1 million for his law firm and coffee business in 2014," the L.A. U.S. Attorney's Office said.
"According to the affidavit, Avenatti obtained the loans by submitting fabricated individual income tax returns (Forms 1040) for 2011, 2012, and 2013, reporting substantial income even though he had never filed any such returns with the Internal Revenue Service," the prosecutor's office said. "The phony returns stated that he earned $4,562,881 in adjusted gross income in 2011, $5,423,099 in 2012, and $4,082,803 in 2013, according to the affidavit. Avenatti allegedly also claimed he paid $1.6 million in estimated tax payments to the IRS in 2012 and paid $1.25 million in 2013."
#MAGA - Michael Avenatti Getting Arrested!!!

— Donald Trump Jr. (@DonaldJTrumpJr) March 25, 2019
"In reality, Avenatti never filed personal income tax returns for 2011, 2012 and 2013 and did not make any estimated tax payments in 2012 and 2013. Instead of the millions of dollars he claimed to have paid in taxes, Avenatti still owed the IRS $850,438 in unpaid personal income tax plus interest and penalties for the tax years 2009 and 2010," the U.S. Attorney's Office said. "Avenatti also submitted a fictitious partnership tax return for his law firm."