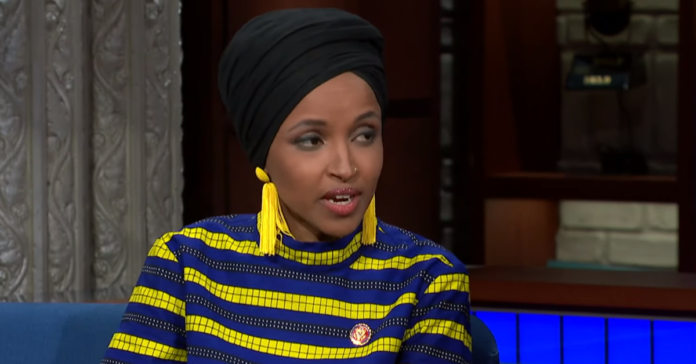 Ilhan Omar just got the worst kind of bad news from a Florida court. Now, it should be noted that this is just testimony in a civil lawsuit, but if any of it is true it is game over for Ilhan Omar.
Alan Bender, a Kuwaiti-born Canadian businessman, made these scandalous accusations via a video link testimony on October 23.
He was testifying in a civil case against the brother of the Emir of Qatar, Sheikh Khalid bin Hamad al-Thani.
The case stems from allegations the Sheikh ordered his American bodyguard to kill two people and that he held an American who was treating him hostage for a while.
Anyone who knows anything about rich Gulf Sheiks abusing staff and other people in America and Europe will at least believe that part of this story.
From The Jpost:
Speaking from Toronto by video link, Bender told the Florida District Court that he met with Qatar's Secretary to the Emir for Security Affairs Mohammad bin Ahmed bin Abdullah al-Masnad and two other senior Qatari officials.
According to his sworn deposition, the three officials told him: "If it wasn't for our cash, Ilhan Omar would be just another black Somali refugee in America collecting welfare and serving tables on weekends."
Bender testified that the officials asked him to recruit American politicians and journalists as Qatari assets, and that when he objected, was told that several prominent figures were already on the payroll. US Congresswoman Omar was described as the "jewel in the crown," he said.
Qatar "recruited Ilhan Omar from even way before she thought about becoming a government official. […] They groomed her and arranged the foundation, the grounds, for her to get into politics way before she even showed interest. They convinced her," he added.
The deposition shows he further told the court that, during a 2017 meeting with Turkish President Recep Tayyip Erdogan, Omar swore allegiance to him. At the time she was a junior state representative in Minnesota.
Omar was said to also have passed information to Qatar which was subsequently handed along to Iran, and was actively involved in recruiting other American politicians to likewise work for Qatar, Bender testified.
"The best thing money can buy are American officials because they are the cheapest of the cheapest costing officials in the world," the Qatari officials were said to have told him.