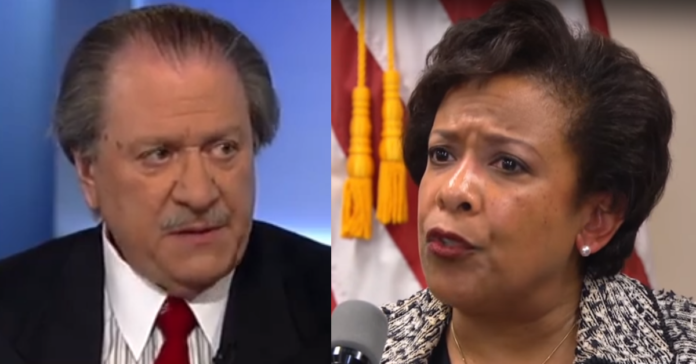 Trump's lawyer Joe diGenova just dropped a bombshell with massive implications for many in the Obama administration.
Look, at this juncture, no one denies Trump's campaign was spied on. The debate is now over whether it was legal or illegal spying.
That is quite a shift in a few short weeks - from nothing to see here to maybe a massive crime was committed but such is the media's laziness.
One thing is for sure - we will all know what happened very soon. From The Washington Examiner:
The Justice Department inspector general has determined the three Foreign Intelligence Surveillance Act warrant extensions against onetime Trump campaign aide Carter Page were illegally obtained, attorney Joe diGenova said on Thursday.
In an investigation that began last year, Inspector General Michael Horowitz is examining the Justice Department's and FBI's compliance with legal requirements as well as policies and procedures in applications filed with the U.S. Foreign Intelligence Surveillance Court related to Page as part of a larger counterintelligence probe into Trump's campaign.
The inspector general inquiry is expected to be completed in either late May or June, and diGenova, a former U.S. attorney for the District of Columbia, said Democrats on Capitol Hill are working overtime to investigate and discredit President Trump.
"They are doing that as a diversionary tactic away from the inevitable conclusions of the DOJ inspector general, Michael Horowitz, who, by the way, we have learned has concluded that the final three FISA extensions were illegally obtained," diGenova said on Fox Business. "The only question now is whether or not the first FISA was illegally obtained."
He pointed to memos, obtained by conservative group Citizens United through open-records litigation, that suggest the FBI might have misled the Foreign Intelligence Surveillance Court in the first warrant application about an unverified dossier.
Horowitz "apparently, as a result of those disclosures … which he was unaware of — the bureau hid those memos from Horowitz — as a result of that they're doing additional work on the first FISA. It may be that all four FISAs will have been obtained illegally," diGenova said.
The dossier, compiled by ex-British spy Christopher Steele, contained salacious and unverified claims about Trump's ties to Russia. It was used by the FBI to obtain the authority to wiretap Page, an American who had suspicious connections to the Russians. The first warrant application was submitted in October 2016, after which there were three renewals at three-month intervals, including in January, April, and June 2017.
The memos obtained by Citizens United, and shared with the Washington Examiner, show Steele met with Deputy Assistant Secretary of State Kathleen Kavalec on Oct. 11 and admitted he was encouraged by a client to get his research out before the 2016 election, signaling a possible political motivation. The timing of the meeting is notable, as it was 10 days before the FBI used Steele's unverified dossier to obtain the original warrant to wiretap Page.
Senate and House investigators told The Hill they too were unaware of the documents, which were given to and redacted by the FBI, and one member of Congress referred the memos to the Justice Department inspector general. "They tried to hide a lot of documents from us during our investigation, and it usually turns out there's a reason for it," House Intelligence Committee ranking member Devin Nunes, R-Calif., said.
A memo from the House Intelligence Committee in February 2018 alleged Steele was paid over $160,000 by the Democratic National Committee and Hillary Clinton's campaign through the Perkins Coie law firm and opposition research group Fusion GPS to "obtain derogatory information on Donald Trump's ties to Russia." The memo also said the FBI never informed the Foreign Intelligence Surveillance Court of the dossier's Democratic benefactors or Steele's anti-Trump bias when it applied to spy on Page, who was investigated by special counsel Robert Mueller over his interactions with Russians but was never charged.
In a rebuttal to the House Intelligence GOP memo, Democrats argued the Justice Department and FBI "met the rigor, transparency, and evidentiary basis needed to meet FISA's probable cause requirement."