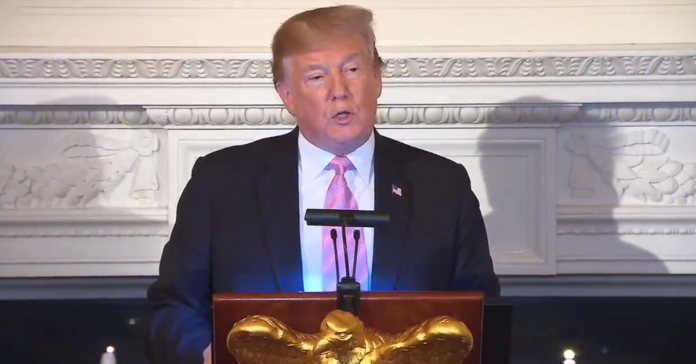 President Trump is on a winning streak like we have not seen in American politics in a century.
Economy roaring and only getting better. Fake scandal found him not guilty. China is coming around on trade signaling a redo that will cement Trump's legacy.
And Trump's judges. No one has moved so quickly to remake the federal judiciary or been as successful.
From The Washington Examiner: President Trump hit another milestone in his efforts to reshape the federal judiciary, with the Senate clearing his 100th judicial nominee Thursday.
The president and Republican-controlled Senate have made judicial nominations a top priority, and the confirmation of Rodolfo Ruiz to the U.S. District Court for the Southern District of Florida brought the number of Trump's judicial appointments into triple digits.
In addition to confirming Ruiz, the Senate is also set to clear two more nominees to federal district courts in Puerto Rico and Pennsylvania. If those two nominations win approval, Trump will have tapped 102 judges to the federal bench.
Trump's judicial appointments include two Supreme Court justices, Neil Gorsuch and Brett Kavanaugh, 37 federal appeals court judges, and 61 federal district court judges.
In anticipation of the milestone, the president lauded the work of the Senate in confirming his judicial nominees, telling attendees of a dinner for the National Day of Prayer on Wednesday that "we're breaking records."
While Trump has seen great success in remaking the federal bench, his efforts have been met by resistance from Senate Democrats, who have criticized the president for the lack of diversity among his judicial picks. Trump's judicial nominees are also young, ensuring they will leave a conservative stamp on the federal courts that will endure for decades.
Democrats attempted to slow the pace of judicial confirmations by using the full 30 hours of debate time for judicial nominees. They have also sought to block nominees by not returning their so-called blue slips to the Senate Judiciary Committee.
But Republicans have used their power as the majority party to diminish Democrats' leverage.
Last month, the GOP-controlled Senate changed the chamber's rules to speed up confirmation of Trump's nominees by lessening debate time to two hours.
President Trump: "I'm thrilled to report tomorrow the Senate will confirm the 100th federal judge to court system under my administration. We're getting to a level where we're going to be breaking records with respect to the judiciary." pic.twitter.com/H9ZHjP7i6b

— The Hill (@thehill) May 2, 2019
Senate just confirmd 100th judge nominated by PresTrump I held hrings for 99 of 100 Continuing record brking Pres/GOP success Strict constructionists that read law/constitution as written instead of what suits their political goals is good4 country& thats what trumps noms stand 4

— ChuckGrassley (@ChuckGrassley) May 2, 2019