President Trump came out firing today after a vicious media hit piece went viral. A New York University professor and cable TV mainstay made up a fake quote attributed to Trump and sat back and watched in horror as the gullible media ran with it as an accurate quote.
The guy was joking, we think, and the media got snookered again proving that all you have to do is bash Trump and the media will give you at least 15 minutes of fame.
From Fox News: President Trump on Monday seized on a New York University professor's false tweet as an example of journalistic malpractice while calling for the U.S. to modify its libel laws to hold news media accountable.
In his early morning tweet while on an overseas trip to Japan, the president said a fake quote attributed to him by Ian Bremmer shows "what's going on in the age of Fake News."
"People think they can say anything and get away with it," Trump wrote. "Really, the libel laws should be changed to hold Fake News Media accountable!"
Bremmer, who is the president and founder of Eurasia Group and a political science professor at NYC, got into trouble Sunday for tweeting a fake quote attributed to Trump.
"Kim Jong Un is smarter and would make a better President than Sleepy Joe Biden," Bremmer wrote in the now-deleted tweet, attributing it to Trump.
North Korea has labeled Biden a "fool of low IQ" and an "imbecile bereft of elementary quality as a human being" after the U.S. presidential hopeful recently called North Korean leader Kim Jong Un a tyrant during a recent speech.
Bremmer later reportedly responded in a now-deleted tweet: "This is objectively a completely ludicrous quote. And yet kinda plausible. Especially on twitter, where people automatically support whatever political position they have. That's the point."
Neither Bremmer nor NYU returned Fox News' requests for comment.
Trump has said in the past that he intended on taking a "strong look at our country's libel laws."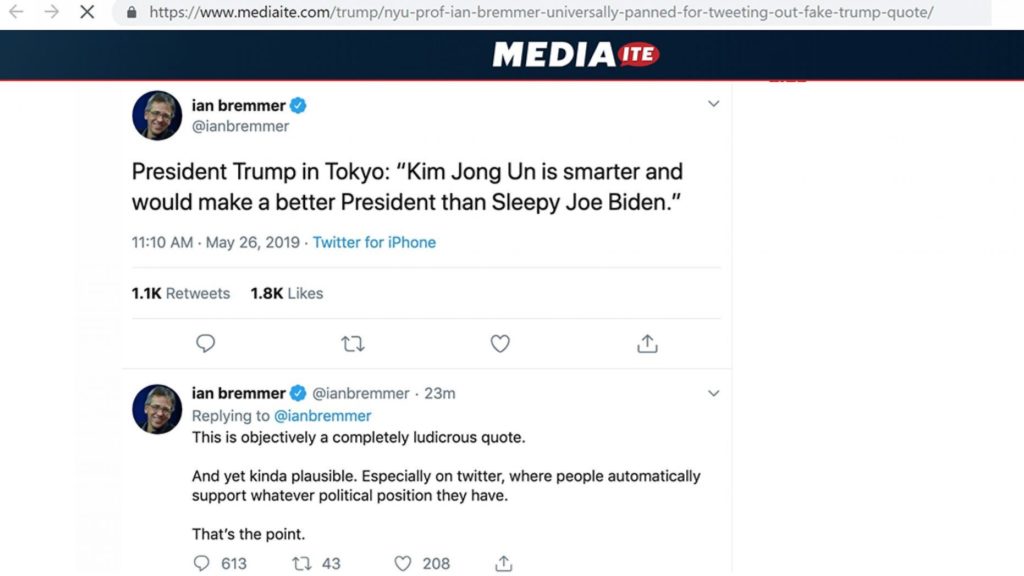 .@ianbremmer now admits that he MADE UP "a completely ludicrous quote," attributing it to me. This is what's going on in the age of Fake News. People think they can say anything and get away with it. Really, the libel laws should be changed to hold Fake News Media accountable!

— Donald J. Trump (@realDonaldTrump) May 27, 2019