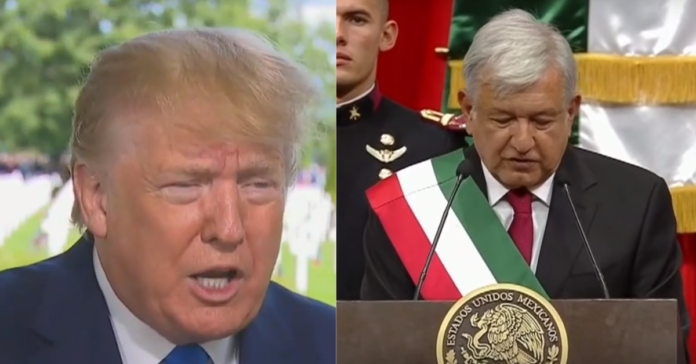 They said it couldn't be done, and that it was stupid to try. The media ganged up on him and many Republicans publicly broke with him in their doubting Thomas' ways.
But Trump just proved them all wrong, again. He just signed a historic deal with Mexico to finally stop the flow of migrants through their country and into ours.
From Politico: President Donald Trump has dropped plans to impose a 5 percent tariff on all Mexican goods beginning next week after administration officials reached a deal with Mexico to stem the flow of Central American migrants seeking to enter the United States.
The move avoids a possible confrontation with Congress over the tariffs, which experts have warned could drastically damage the U.S. economy. The United States imported about $350 billion worth of goods from Mexico last year, including everything from car parts to avocados.
"I am pleased to inform you that The United States of America has reached a signed agreement with Mexico. The Tariffs scheduled to be implemented by the U.S. on Monday, against Mexico, are hereby indefinitely suspended," Trump tweeted Friday evening.
Another person briefed on the negotiations said the offer by Mexico involves sending 6,000 Mexican National Guard troops to its southern border. Mexico will also step up its fight against smugglers by cracking down on their routes. However, talks are still continuing this afternoon and a deal hasn't been finalized.
The Trump administration has also been seeking to stem the flow of migrants by having Mexico declared a "safe third country." Under such an agreement, Central American migrants would be required to seek asylum in Mexico if they pass through that country en route to the U.S.
But the Mexican delegation doesn't think a "safe third country" agreement is feasible for a variety of reasons, the person briefed on the talks said. Any such asylum deal would also have to be ratified by the Mexican Senate, an unlikely outcome. "Moreover, it'd be extremely costly and burdensome for Mexico," the person said. A regional asylum deal involving Central American countries would be even more complicated.
Mexican officials also fear an asylum agreement could lead to an even greater surge from Central America, as migrants attempt to enter the U.S. before it's finalized.
I am pleased to inform you that The United States of America has reached a signed agreement with Mexico. The Tariffs scheduled to be implemented by the U.S. on Monday, against Mexico, are hereby indefinitely suspended. Mexico, in turn, has agreed to take strong measures to….

— Donald J. Trump (@realDonaldTrump) June 8, 2019
I am pleased to inform you that The United States of America has reached a signed agreement with Mexico. The Tariffs scheduled to be implemented by the U.S. on Monday, against Mexico, are hereby indefinitely suspended. Mexico, in turn, has agreed to take strong measures to….

— Donald J. Trump (@realDonaldTrump) June 8, 2019