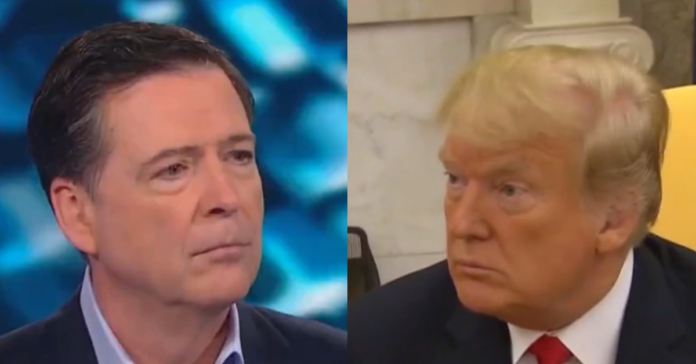 Now it all makes sense. If you recall, Trump thought James Comey was playing games when he closed the door and briefed him alone about the 'Dodgy Dossier.'
Trump thought Comey was trying to blackmail him by mentioning an uncorroborated political smear from his opponents.
Now, it turns out, that Obama's top FBI lawyer and others thought the same thing - that Comey's showboating may be construed as blackmail by Trump. And they let him do it anyway!
Which proves that Trump could never have obstructed justice because Comey was in the wrong, and moreover, the special counsel should never have been appointed.
To recap, these jerks knew Trump would consider Comey's unprecedented move blackmail, did it anyway, then got a special counsel appointed when he correctly fired Comey. You cannot make this stuff up. The entire special counsel is invalid.
From The Political Insider: James Baker, the former top lawyer for the FBI, revealed senior officials at the bureau were concerned that then-director James Comey would appear to be blackmailing Donald Trump by attending a meeting to inform the future President about allegations that he had cavorted with prostitutes in Moscow.
Those allegations were part of the infamous Steele dossier which had not been corroborated.
Baker noted that the meeting would draw parallels to another one-time FBI director – J. Edgar Hoover – whom President Harry Truman accused of using "sex-life scandals and plain blackmail" tactics during his tenure.
"We were quite worried about the Hoover analogies, and we were determined not to have such a disaster happen on our watch," Baker told the Yahoo News podcast Skullduggery.
President Trump recently slammed the investigation that was initiated by the same Hillary Clinton-funded dossier as a hoax.
"It was the greatest hoax ever perpetrated on the people of this country, and you know what, I am so proud of our attorney general that he is looking into it," the President told reporters.
Baker also revealed that Comey was lying to President Trump when he told him he wasn't the subject of an investigation, something the President later relayed to the public.
"I didn't think it was accurate to say that he wasn't under investigation," Baker said noting that he clearly believed Trump was a "subject" at the time.
In the end, the former top lawyer for the bureau said that while the Steele dossier eventually had questions raised about its accuracy, the FBI was obligated to investigate.
They were also obligated to reveal it was an unsubstantiated mess of false information, which they never did.