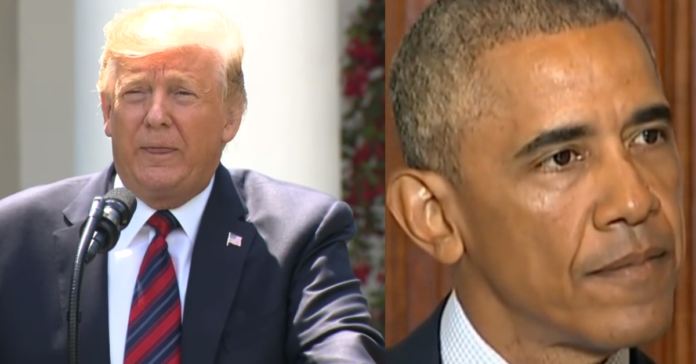 President Donald Trump just accused the Obama administration of treason for spying on his campaign during the 2016 election.
Strong words indeed. Trump also said someone is going to go to jail for a long time. With Bill Barr on the case, the only question left is who will go down for it?
Reports from Susan Rice's cover your ass email in the final minutes of the Obama administration claim that Obama ordered a 'by the book investigation.'
If so he may skate, but the rest, those who actually did the investigation and may have been fast and loose with the facts to get the FISA's are surely doomed.
Loretta Lynch, Comey, Strzok, Page, Blumenthal, Ohr - they all need good lawyers because Bill Barr is coming.
From The Hill: President Trump on Friday asserted that his 2016 campaign had been "conclusively spied on" by the Obama administration while calling the charge akin to "treason" and demanding jail time for those behind it.
In a tweet, the president said "nothing like this has ever happened" while calling for prison sentences. "A really bad situation. TREASON means long jail sentences, and this was TREASON!" he continued.
The attorney general infuriated many Democrats on Capitol Hill earlier this year when he asserted that "spying" on the Trump campaign had occurred in 2016, while declining to take a position on its legality. His choice of language has earned rebukes from former members of the Justice Department, including former FBI Director James Comey.
Barr told The Wall Street Journal and Fox News in interviews published Friday that he had received insufficient answers from Justice Department personnel about the reasons why an investigation had been launched into the Trump campaign in the first place.
"Government power was used to spy on American citizens," Barr told the Journal on Friday. "I can't imagine any world where we wouldn't take a look and make sure that was done properly."
"I've been trying to get answers to the questions and I've found that a lot of the answers have been inadequate and some of the explanations I've gotten don't hang together, in a sense I have more questions today than when I first started," Barr added in his interview with Fox.
My Campaign for President was conclusively spied on. Nothing like this has ever happened in American Politics. A really bad situation. TREASON means long jail sentences, and this was TREASON!

— Donald J. Trump (@realDonaldTrump) May 17, 2019