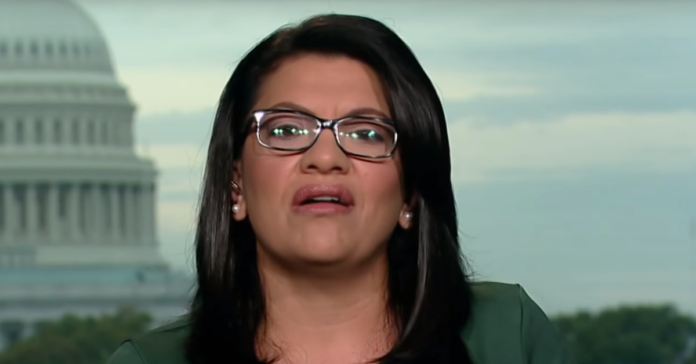 Rashida Tlaib is in hot water over discrepancies in her past. Many are wondering how she can even stay in office with all the stories swirling about how she broke the law - both state and federal - to gain her office.
Look, she needs to resign or be impeached if she broke the law - this is still America and we are still a nation of laws.
The petition reads: THANK YOU PATRIOTS !! OVER  1/4 MILLION SIGNATURES … KEEP SHARING !!!! #MAGA
RASHIDA TLAIB of Michigan was questionably elected to our house of representatives during the November 2018 primary election process.
She lied about living in Detroit using her father's house address .. she never lived there .. she lived in Dearborn ., her father has verified this ..  .. if this is not the case os TLAIB Denies we would like proof of her residency in Detroit ..
We also demand a full investigation and recount of every vote that she supposedly received  .. we also demand a full list of all campaign contributions and who donated to her because she has publicly displayed affiliations with extremist organizations on her social media accounts   .. her words and actions are unprofessional to say the least using profanity and hate-filled rhetoric against our country our citizens and our president
..SHES THE ONE WHO SAID WE ARE GOING TO IMPEACH THIS MOT F€£KER REFERRING TO OUR PRESIDENT .. she is unfit to serve in any capacity within our government because of her extreme bias…
The goal of this petition is to gather enough signatures to bring her actions against the United States into public view so that we may initiate an investigation into her background, and end her political career…
You can sign the petition here.
From Big League Politics: Democrat Michigan congresswoman Rashida Tlaib violated state election law and also federal law by lying about her residence to run for office in Michigan.
Since Big League Politics exposed her residence lie using credit score and property records and archived information, Congressman John Bumstead communicated to us through an intermediary that Tlaib broke the law.
Tlaib's own father even said that Tlaib "lied" about her address in order to run for office, meaning that Tlaib represented a state House district that she did not live in.
Here is what the evidence, presented below, proves:
Rashida Tlaib registered to vote at a false address as she embarked on her first political campaign. "Registering to vote using a false address" is one of a number of crimes that fall into the voter fraud category.
Tlaib ran for and represented the 12th district in the Michigan House of Representatives even though she was not a resident of that district.
Records show that Tlaib was an "Absentee Owner" at the Detroit house she claimed to live in.
Tlaib moved to her official Detroit apartment address, which she reported to the FEC after the election, at the start of her 2018 campaign. Her new address was recorded for the first time one day before she announced her campaign for Congress.
Michigan law maintains that state representatives must live in the district they represent, and federal law holds that a person who lies about their address on voter registration forms can be prosecuted.