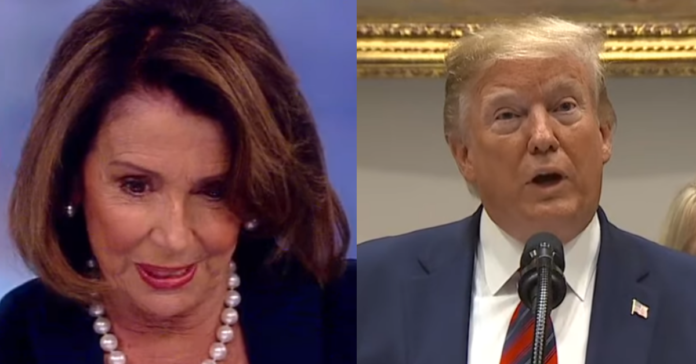 Nancy Pelosi and the rest of the Democratic party should be absolutely ashamed of themselves.
Look, our politicians have failed us - they all have agreed in the past on stricter illegal immigration controls and both sides have at times voted to build a wall to help with the border crisis.
But the piece by piece approach has not worked and worse, has allowed both sides to play politics with this vital issue. We need both sides to come together and do what is right, to do what they have all agreed to do in the past, before this crisis gets worse.
From The Washington Examiner: Immigration crime, virtually all involving illegal male, Hispanic immigrants, was the top offense in federal courts last year, according to the United States Sentencing Commission.
In its just-released annual report, the commission said that immigration crimes accounted for 34.4% of all sentencing cases, up from 30% last year.
Nearly tied with drug crimes in fiscal 2017, crimes involving immigration expanded the gap in fiscal 2018, said the commission.
Overall, the courts saw 69,425 cases and most involved Hispanics and illegal immigrants.
"In fiscal year 2018, 54.3 percent of all offenders were Hispanic, 21.2 percent were white, 20.6 percent were black, and 3.8 percent were of another race. Non-U.S. citizens accounted for 42.7 percent of all federal offenders," said the federal commission.
"Immigration cases accounted for the largest single group of offenses in fiscal year 2018, comprising 34.4% of all reported cases.
Cases involving drugs, firearms, and fraud were the next most common types of offenses after immigration cases. Together these four types of offenses accounted for 82.9 percent of all cases reported to the commission in fiscal year 2018," said the 2018 Annual Report and Sourcebook of Federal Sentencing Statistics.
The immigration crime numbers from fiscal 2018:
There were 23,883 cases, 34.4% of all sentencings.
Of those, 22,782, or 96.3%, involved Hispanics.
Most, were male, 22,106, 92.7%.
Just 866, or 3.6%, involved those under 21 years old.
21,835, or 91.5% were noncitizens.
94.7% of the immigration cases led to prison sentences.
The commission said that immigration cases include, "trafficking in U.S. passports, trafficking in entry documents, failure to surrender naturalization certificate, fraudulently acquiring U.S. passports, smuggling, transporting, or harboring an unlawful alien, fraudulently acquiring entry documents, and unlawfully entering or remaining in the U.S."