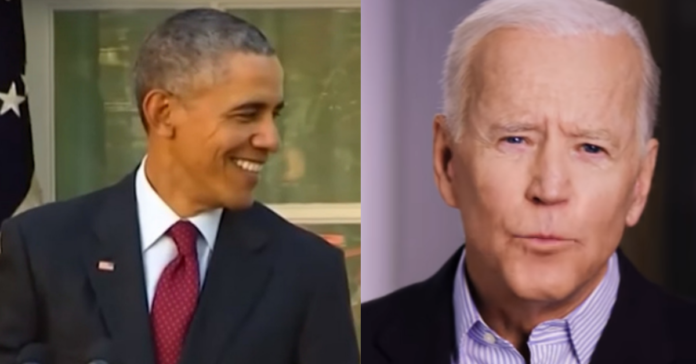 Well, this is awkward. Barack Obama's Secretary of Defense just landed a knockout blow to the nascent campaign of Joe Biden.
Robert Gates, who served under both Bush and Obama said Biden hasn't been right in 40 years. Ouch…
Look, the establishment has much to answer for, as Hillary Clinton found out the hard way, and it looks like Biden will lead the left off the same electoral cliff again. From BPR:
Former Vice President Joe Biden's "intellectual acuity" in potentially leading the nation seemed a cause of concern for a former Obama administration official.
Former Secretary of Defense Robert Gates did not exactly give the 2020 Democratic contender a glowing reference as he simply said he "didn't know" if Biden would make an effective commander-in-chief, telling CBS News' Margaret Brennan on "Face The Nation" that he stood by his view that Biden has "been wrong on nearly every major foreign policy and national security issue" in the last 40 years.
Brennan read from Gates' comments on Biden in his 2015 memoir:
Joe Biden is impossible not to like. He is a man of integrity, incapable of hiding what he really thinks and one of those rare people you know you can turn to for help in a personal crisis. Still, I think he's been wrong on nearly every major foreign policy and national security issue over the past four decades.
After reminding the highly respected former Defense Secretary of his own words, the CBS News moderator and senior foreign affairs correspondent asked if he thought Biden would make a good president.
"I don't know. I think I stand by that statement," Gates said.
"He and I agreed on some key issues in the Obama administration. We agreed on, to oppose- we both opposed the intervention in Libya. We both opposed the way that President Mubarak was handled- the situation in Egypt. We disagreed significantly on Afghanistan and some other issues," Gates explained.
"I think, as I say elsewhere in the memoir, I think that the vice president had some issues with the military. So how he would get along with the senior military, and what that relationship would be, I just- I think, it would depend on the personalities at the time."
"You think he's right for this moment?" Brennan asked, noting that the 76-year-old former vice president is one year older than himself.
"I think I'm pretty busy and pretty active but I think- I think having a president who is somebody our age or older, in the case of Senator Sanders, is – I think it's problematic," Gates replied.
"I think that you don't have the kind of energy that I think is required to be president," he added. "I'm not sure you have the intellectual acuity that you might have had in your sixties."