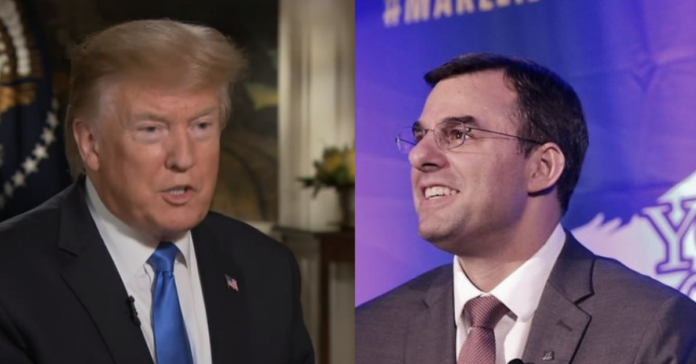 President Trump is a counterpuncher and he just landed a knockout blow on the ever-hapless Justin Amash.
Amash is just another timid Republican who forgets that Trump not only beat the Democratic machine, he walloped the GOP machine too.
He ran against you and your stupid ideas Amash, just as much as he ran against Paul Ryan and Jeb Bush.
Having a political hack like Amash attack Trump is a badge of honor and more proof he is beating the establishment at their own game.
From The Washington Examiner: President Trump lashed out at Rep. Justin Amash on Sunday, calling the Michigan Republican a "loser" who is playing into the hands of Democrats by calling for the president's impeachment.
Amash is the first Republican in Congress to back impeachment efforts, saying Saturday that special counsel Robert Mueller's Russia report showed Trump had committed impeachable offenses.
Trump responded by calling Amash a "lightweight" for his libertarian views that have often put him at odds with his Republican colleagues.
"If he actually read the biased Mueller Report, 'composed' by 18 Angry Dems who hated Trump, he would see that it was nevertheless strong on NO COLLUSION and, ultimately, NO OBSTRUCTION," Trump tweeted. "Anyway, how do you Obstruct when there is no crime and, in fact, the crimes were committed by the other side? Justin is a loser who sadly plays right into our opponents hands!"
Mueller's investigation into Russian interference in the 2016 election concluded there was no criminal conspiracy between the Trump campaign's contacts with Russians. Mueller detailed 10 instances of possible obstruction of justice but did not make a determination as to whether Trump obstructed. Attorney General William Barr made that determination instead, defending the president's actions as made by someone frustrated and angry by an investigation he saw as politically motivated.
"Contrary to Barr's portrayal, Mueller's report reveals that President Trump engaged in specific actions and a pattern of behavior that meet the threshold for impeachment," Amash said Saturday.
….he would see that it was nevertheless strong on NO COLLUSION and, ultimately, NO OBSTRUCTION…Anyway, how do you Obstruct when there is no crime and, in fact, the crimes were committed by the other side? Justin is a loser who sadly plays right into our opponents hands!

— Donald J. Trump (@realDonaldTrump) May 19, 2019