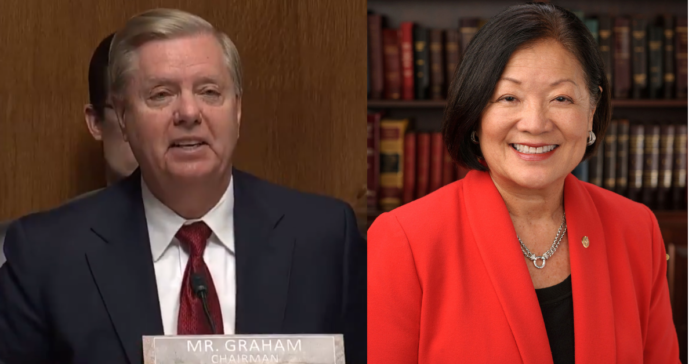 Senator Mazie Hirono just disgraced herself, the Senate, and every Democratic politician in Washington.
She started out not asking any questions of Bill Barr, but rather rantung about Barr and Trump calling Barr without integrity and calling Trump a grifter.
"The American people now know that you are no different than Rudy Giuliani and Kellyanne Conway. People who have sacrificed their integrity and reputations for a grifter and liar who sits in the Oval Office" she started.
"You used every advantage of your office to make it seem like President Trump was cleared. "
You put the power of your office behind a "public relations" push for President Trump. You lied to Congress."
"You knew you lied and now we know," she whined before lashing out:
"You lied to Congress … you lied." She's alleging, essentially, that Barr committed a crime.
"You should resign, You did exactly what I thought you'd do, she added.
Enter Lindsey Graham who told her to shut it as she kept badgering Barr: "Please, Mr. General, give us some credit for knowing what the hell is going on."
"Not after this line of questioning, you've slandered this man from top to bottom," cutting her off"
Sen. Lindsey Graham (R-SC) interrupts Sen. Mazie Hirono (D-HI) and shuts her down after she repeatedly "slandered" Attorney General Bill Barr at his Senate Judiciary Committee hearing. pic.twitter.com/1qMkT9ydTb

— Ryan Saavedra (@RealSaavedra) May 1, 2019