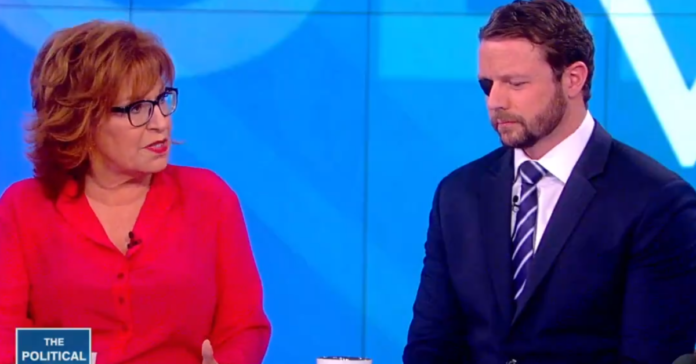 Joy Behar, who somehow still has a show on a major network, went into full Trump and Trump supporter bashing mode today.
Thankfully, Dan Crenshaw was on set to shut her down. Look, Trump ran on having better relations with Russia, many forget that, and it may be impossible. It may be that Putin is a thug and Trump will get nowhere.
But it is Trump's job to try. Trump has cracked down harder than Obama by giving Ukraine the lethal weapons Obama would not, and he has kept and increased sanctions.
But he plays nice in public because what is the other option? Insult Putin? Trump is playing the long game and offering Putin a few carrots as well as showing him a big stick.
From Fox News: "The View" co-host Joy Behar said on Monday that Republicans who support President Trump should take off "those flag pins" because the president's behavior regarding Russian meddling is "unpatriotic."
Behar was speaking with Rep. Dan Crenshaw, R-Texas, who explained that he doesn't necessarily support Trump's "character flaws" and reminded viewers that he has personally called for civility in the past. But the anti-Trump daytime talk show star declared that Trump's issues go beyond insulting rivals.
"It isn't just that. Let's talk about, you know, the fact that he met with Putin for 90 minutes… and never once brought up the fact that Russia, Russia interfered in our election," Behar said. "And he never brought it up. How is it that the Republican Party, your colleagues, can stand by this man when he is involved in this way with Russia?"
Behar continued: "I said last week I don't want to see any of those flag pins anymore on Republicans who don't stand up against this guy for Russian meddling, and other things that he's done. It seems as though he's unpatriotic. What do you say to that?"
Crenshaw told Behar she was "overstating it" and said the specific conversation was regarding Venezuela.
"I will give you this. The president has a bad habit of repeating what Putin says to the public," Crenshaw conceded. "He shouldn't do that. But he also has a pretty good habit of taking actions and putting policies in place that are vehemently counter-Russia."
Rep. @DanCrenshawTX says he supports Pres. Trump's "policy agenda," but "I don't have to try and defend his character flaws."

"I set a baseline after the 'SNL' thing," he says. "Attack ideas … but you don't have to insult." https://t.co/f8u2wbJuik pic.twitter.com/mEAPMIXmCs

— The View (@TheView) May 6, 2019