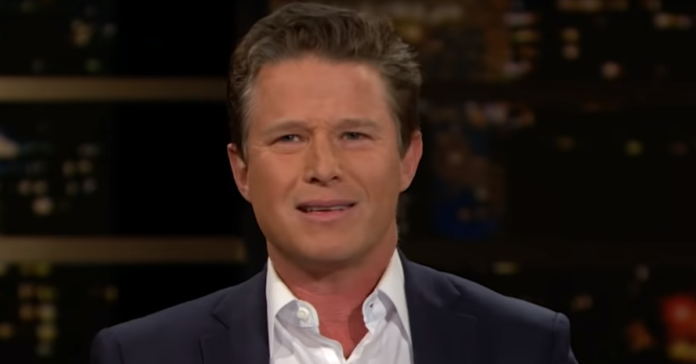 Billy Bush is coming back to television and it is about time. Bush got railroaded over a joke Trump told that the media then took and twisted to try to take down Trump.
They failed so the left turned their venom on an innocent man, Billy Bush, and got him fired and basically ruined his life.
Bush bounced back, spent time with his family, and we are happy to say just got his comeback job in TV. Congrats!
From The Daily Mail: Billy Bush is heading back to the airwaves after three years. The newly divorced television personality confirmed to People that he will be hosting the revamped version of Extra this fall, which will now be called Extra Extra.
That move comes just as his three-year contract with NBC would have been up, with Bush reportedly receiving all of his promised $10 million pay when he was ousted by the network in 2016 two months after joining the Today team.
He also spoke about his fall from grace following the release of a hot mic conversation between himself and President Trump that became known as the p***ygate tape.
In the days after that tape was release, it was another onetime inhabitant of the Oval Office who was first to reach out and offer advice said Bush.
That person was his cousin, President George W Bush.
'Nobody likes a victim, and I'm not a victim. It was a bad moment, and I was in it,' admitted Bush.
'I went a little too far and I know that. But one moment doesn't have to define your life.'
Bush will be filling the soon-to-be-vacated host spot when Extra Extra airs later this fall.
In an odd twist, he will be stepping in for Mario Lopez, who is taking over for Natalie Morales at Access Hollywood.
Morales replaced Bush as host of that show in 2016, just weeks before he brought about his own downfall by alerting executives to the existence of the p***ygate tape 
Bush joined NBC's flagship morning show in August of 2016 after signing a deal that was said to be worth $3.5million a year, but was gone by October.
Bush's role on the hot mic audio is largely reactionary, laughing at Trump over and over as he brags about his self-proclaimed prowess and appeal to women.