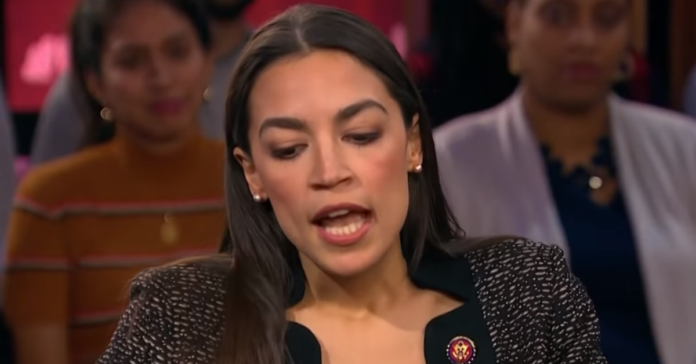 Rep. Alexandria Ocasio-Cortez, D-N.Y. just got an apology from a Sacremento baseball team after they humiliated her in public.
The minor league team showed a patriotic video (you can see it below) that took a swing at AOC…and hit a grand slam. From Fox News:
A Washington Nationals minor-league affiliate apologized Monday for a Memorial Day tribute video that appeared to show an image of Rep. Alexandria Ocasio-Cortez, D-N.Y., in between dictators Kim Jong Un and Fidel Castro while former President Ronald Reagan spoke of the "enemies of freedom."
Fresno Grizzlies team president Derek Franks told KSEE-TV playing the video was "truly an oversight." The team also released a statement apologizing for playing the clip.
"A pre-produced video from outside our front office was selected; unfortunately what was supposed to be a moving tribute ended with some misleading and offensive editing, which made a statement that was not our intent and certainly not our opinion," the statement read.
"We're embarrassed we allowed this video to play without seeing it in its entirety first. We unconditionally apologize to Rep. Ocasio Cortez in addition to our fans, community and those we hurt. It was a mistake and we will ensure that nothing like this ever happens again."
Fresno Bee reporter Carmen George tracked down the video the Grizzlies played.
Here's the #video shown by the @FresnoGrizzlies tonight, found on @YouTube: https://t.co/LioDjXNya0

— Carmen George (@CarmenGeorge) May 28, 2019
We're embarrassed we allowed this video to play without seeing it in its entirety first. We unconditionally apologize to Rep. Ocasio-Cortez (@AOC) in addition to our fans, community and those we hurt. It was a mistake and we will ensure that nothing like it ever happens again.

— Fresno Grizzlies (@FresnoGrizzlies) May 28, 2019