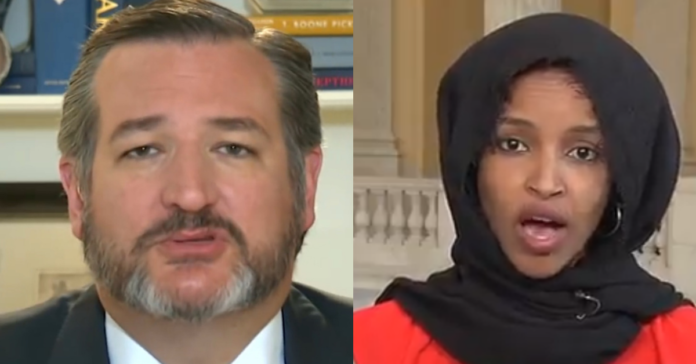 Ted Cruz just blasted Ilhan Omar over her insensitive comments about Hispanic immigrants.
Ted let her have it in no uncertain terms, basically calling her out and the entire Democratic immigration platform for rank hypocrisy.
That is endemic in the democratic party and the reason why no one takes them seriously anymore.
From The Washington Examiner: Sen. Ted Cruz, R-Texas, rebuked Rep. Ihan Omar, D-Minn., Tuesday night for suggesting that Latino immigrants could not compete in a "merit-based" immigration system.
Omar called a merit-based immigration system discriminatory and racist in a now-deleted tweet. Omar's comments were likely aimed at President Trump's plan, released in May, to take a merit-based approach to approving immigrants' entry into the U.S.
"A 'merit based' immigration policy is filled by racism toward the Latinx community. Our immigration policies shouldn't be based on discrimination, fear, or bigotry. We should welcome immigrants to our country and offer a simple pathway to citizenship," Omar's tweet said.
Cruz, whose father is an immigrant from Cuba, said Omar's tweet "troubled" him.
"As the son of a Cuban immigrant whose Dad came to get a math degree & become a computer programmer, I'm troubled that Dems seem to believe Hispanic immigrants can't qualify for skills-based legal immigration. Bringing in more scientists, engineers & doctors is good for US jobs," Cruz said.
Omar's office did not immediately provide an explanation of why she chose to delete her tweet.
Omar later tweeted out an article published in the Washington Post titled "What's behind the desire for 'skilled' immigrants? Racial prejudice." The article was authored by Stanford professor Neil Malhotra and University of California, Riverside, professor Benjamin Newman.
In her tweet, Omar quoted the story, "Our research suggests that prejudice against Latinos is an important, if veiled, reason that some Americans advocate admitting primarily highly educated, highly skilled immigrants."
As the son of a Cuban immigrant whose Dad came to get a math degree & become a computer programmer, I'm troubled that Dems seem to believe Hispanic immigrants can't qualify for skills-based legal immigration. Bringing in more scientists, engineers & doctors is good for US jobs. https://t.co/iugniZgJtL

— Ted Cruz (@tedcruz) May 29, 2019