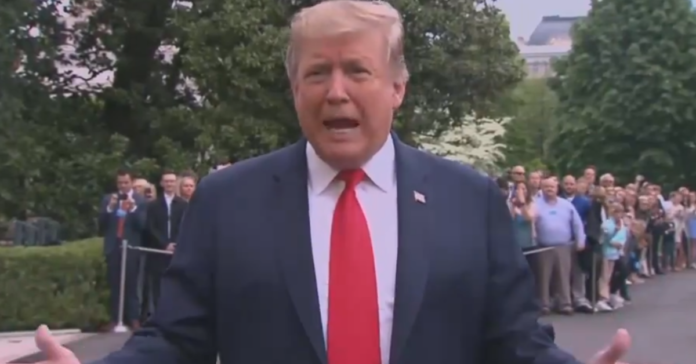 The U.S. economy under President Trump's stewardship is on fire and is the absolute envy of the world.
Now, you may hear Biden and Obama in the coming months try to claim credit, but that is just a myth driven by fear of Trump and the fear of the Democrats losing again in 2020.
They sold out their base and it took a Republican, President Trump, to change course and start the economy working for all Americans. talk about irony…
Much needs to be done - wealth inequality is still a problem and while wages are finally starting to rise, they need to go much higher. That said, no one expected these numbers, most predicted 2% or so growth. This is great news for Trump heading into the election.
From Breitbart: The U.S. economy grew at a 3.2 percent annual rate in the first three months of 2019 —  beating Wall Street's expectations of 2.5 percent growth —  according to the Bureau of Economic Analysis.
The advance in the gross domestic product, the broadest measure of economic health, marks an acceleration from a 2.2 percent gain in the previous October-December period. Disposable personal income saw a boost of 3 percent. while overall prices grew by 0.8 percent.
In the first quarter, inventory rebuilding added 0.7 percentage point to growth, while a falling trade deficit boosted growth by a full percentage point. Consumer spending, which accounts for 70 percent of economic activity, slowed to growth at a rate of just 1.2 percent in the first quarter. In particular, spending on durable goods fell at a rate of 5.3 percent, the biggest decline in a decade, led by a sharp drop in light truck sales.
The gain surpassed the 3 percent bar set by President Donald Trump as evidence his economic program is working.
It was the strongest first-quarter growth rate since 2015. In recent years, GDP has been exceptionally weak in the first quarter.
There had been fears growth could dip below 1 percent this year due to a variety of adverse factors such as the December stock market nosedive, rising weakness in key economies overseas, the U.S. trade war with China and a 35-day partial government shutdown that ended in January.
However, the economy shrugged off those concerns, helped by an announcement in early January from the Federal Reserve that after raising rates four times last year, it was declaring a pause on further rate hikes.
Just out: Real GDP for First Quarter grew 3.2% at an annual rate. This is far above expectations or projections. Importantly, inflation VERY LOW. MAKE AMERICA GREAT AGAIN!

— Donald J. Trump (@realDonaldTrump) April 26, 2019